Reds' Chapman: I want to close
The Reds are expected to decide within the next few days whether Aroldis Chapman will pitch as a starter or a closer this year. On Saturday, after what could be his final start of the spring, Chapman expressed a strong desire to remain as closer.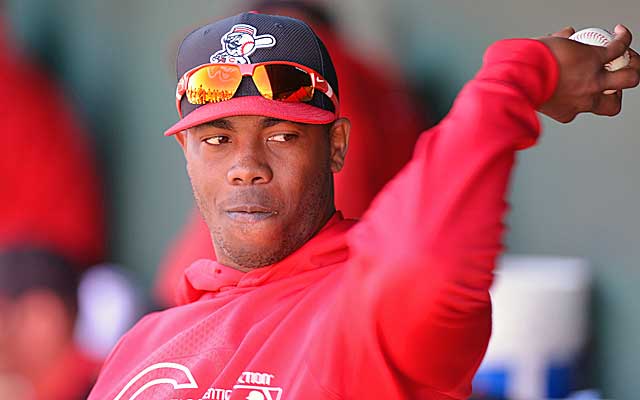 SCOTTSDALE, Ariz. -- The Reds treated Aroldis Chapman like a starting pitcher on Saturday. He went four innings, and manager Dusty Baker even made sure he got two at-bats.
So is Chapman going to be a starter or a closer?
The Reds still won't say, although some in the organization expect a decision to be made in the next two or three days. It's hard to say what effect Saturday's outing will have. Chapman was wild early and didn't really light up the radar gun (his top fastball was 95 mph), but he got better as his outing went on.
More spring training
Related content
What was perhaps most interesting about the day was how strongly Chapman spoke when asked what he wants the Reds' decision to be.
"I would like to be a closer, but that's not in my hands," Chapman said.
General manager Walt Jocketty and pitching coach Bryan Price have favored making Chapman a starter, while Baker has been considered the strongest advocate of leaving him in the bullpen.
Baker suggested after Saturday's game that he plans to talk to Chapman and get the pitcher's opinion. He also suggested that Chapman's opinion should matter, at least to some extent.
"We're going to do what's best for the organization, for the team and for him," Baker said. "But it makes it a lot easier if you get the person's blessing. I'm happy he finally expressed something."
Chapman worked as a starter last spring, moved to the bullpen after the Reds had some injuries and became the closer in May. He ended up with 38 saves and, at times, looked like the most dominating closer in the game.
The 25-year-old Cuban left-hander said he came to love the role.
"At the beginning, when I started closing, I didn't know," Chapman said. "Then I started getting into the late part of the game, and I liked it. The adrenaline goes up."
The Chapman decision has had baseball people talking all spring. Several scouts attending Saturday's game were adamant that Chapman should be a closer.
"Otherwise, you're just trying to put a square peg into a round hole," one said.
Chapman regularly hit 100 mph on the radar gun when he was pitching one inning. He didn't come close to it Saturday, but it's hard to know how much that had to do with it being spring training and how much it was because he was pacing himself as a starter. Chapman himself indicated that both factors could have been in play.
"When you start, you use your pitches in a different way," he said. "You need to save energy, and you use speed as the game demands it."
Saturday against the Giants, Chapman walked the first two batters that he faced and struggled through a 27-pitch first inning. The Giants scored their only run against him on a wild pitch.
Chapman's final two innings were significantly better (and more efficient). He ended up allowing just two hits with three walks and two strikeouts. There was enough there for advocates of using him as a starter to say he can handle it and enough questions for advocates of using him as a closer to say he belongs back in the bullpen.
"Even though he only gave up one run, he didn't throw a lot of quality pitches," said Baker, in effect making the case to return him to the bullpen.
In any case, the decision should come soon. And Chapman has now made it very clear how he wants the decision to go.
"I would like to be a closer," he said, "but it's up to them."
Sunday's MLB roundup features the D-Backs clinching a postseason spot and the Mariners going...

The 2017 season has been, by far, the worst season of Cabrera's career

The Mariners were eliminated from postseason contention with Sunday's loss
Maxwell became the first MLB player to kneel during the national anthem Saturday

The Blue Jays are not expected to bring Bautista back next season

The Dodgers have already clinched the NL West title, so the D-Backs will be a wild card te...