Reds clinch playoff berth; all five NL postseason spots are claimed
For the second straight year, the Reds are going to the playoffs. All five NL postseason spots have been claimed.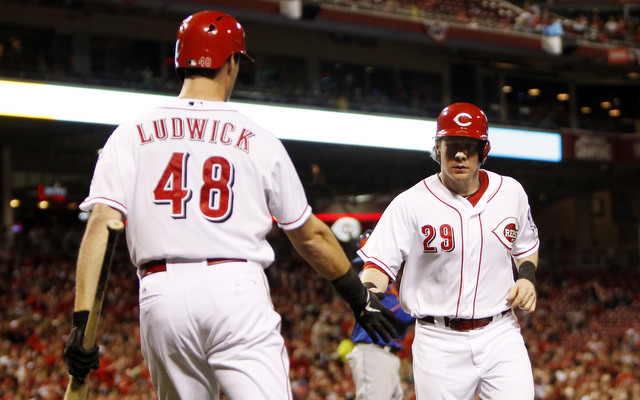 More Reds: Axisa: AL caliber lineup helps Reds get into NL postseason
With an assist from the Cardinals, the Reds have become the fifth and final NL team to clinch a postseason berth. They beat the Mets 3-2 on Shin-Soo Choo's walk-off double while St. Louis beat the Nationals 4-3. The Cardinals, Braves, Pirates and Dodgers have all punched their postseason ticket as well, so the five-team NL field is set.
Cincinnati is going to the postseason for the second straight year and the third time in four years. They lost in the NLDS in both 2010 and 2012, first to the Phillies and then to the Giants.The Reds blew a two games-to-none lead to San Francisco in the best-of-5 series last fall.
Following the frustrating exit last year, GM Walt Jocketty and staff set out to acquire a legitimate leadoff hitter to bolster their already potent lineup. That led them to Choo, who was acquired in a three-team trade and has since gone on to post one of the four highest on-base percentages in baseball. Joey Votto sits in the top four as well.
Now that Johnny Cueto has returned from his (third) lat strain, manager Dusty Baker has two aces (Cueto and Mat Latos) and a damn-near-ace (Homer Bailey) on his starting staff. Mike Leake and Bronson Arroyo aren't too shabby either. The bullpen behind Aroldis Chapman is very underrated. Sam LeCure and J.J. Hoover are two of the best relievers no one talks about.
The Reds came into Monday with an average of 4.40 runs scored per game and 3.63 runs allowed per game. Those are the second and third best marks in the NL, respectively. This isn't a top heavy club that relies on one or two stars. They're deep and balanced, with strong pitching and a strong offense. That makes then a dangerous draw in a short postseason series.
With the Cardinals beating the Nationals, the Reds are tied with the Pirates and only two games back of St. Louis for the top spot in the NL Central. Obviously winning the division and avoiding the winner-take-all wild-card game is preferable, but Cincinnati now knows they are going to the playoffs one way or the other.
Ellsbury is due at least $68 million over the next three seasons

Wright was arrested at his home Friday

The former Tigers teammates were voted into Cooperstown by the 16-person Modern Era Commit...
The Yankees still have room for a good-sized signing even after Saturday's trade with Miam...

St. Louis gets some much needed help for their bullpen

Keep tabs on the top 50 free agents right here