Reds driving hard for soft landing after weekend success in Pittsburgh
Following an emotionally charged series featuring beanball accusations and scoreboard watching, the Reds and Pirates both head into the season's final six games with work to do.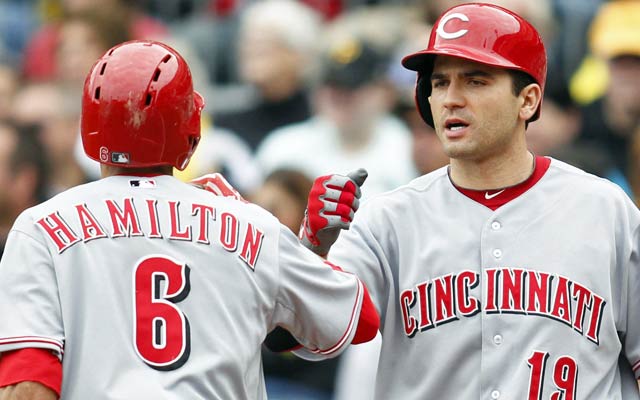 PITTSBURGH – Notes are scribbled all over a yellow sheet of paper here, a white sheet of paper there. Cincinnati Reds manager Dusty Baker has playoff possibilities scratched out, rotation options scrawled out and a whole bunch of data on the New York Mets to digest between now and Monday night.
"The Mets are a dangerous ballclub because we don't know 'em," Baker was explaining Sunday.
The Mets became a little less dangerous after the Reds blistered the Pittsburgh Pirates 11-3 on Sunday … and once the Nationals were dropped by the Marlins in the first game of a doubleheader.
The Reds and Pirates now are all but assured of taking the two National League wild-card spots if they can't catch the division-leading Cardinals.
And it is the Reds who now are driving hard for a soft landing. They wrecked the final home weekend of a memorable summer in Pittsburgh by taking two of three games. Now they head home for the final week, with three against the Mets and then three more against the Pirates.
"Our situation can't get much better," shortstop Zack Cozart says. "We control our own destiny – in the wild-card, at least.
"We were inconsistent a lot over the past two or three months. I feel like we're playing our best ball right now."
Do not underestimate these Reds come October. They are beginning to hit their stride after coming close but never quite getting there for much of the season.
They have unique weapons. They have standard weapons. They have special weapons.
Johnny Cueto is lurking just around the corner, ready to make only his 11th start of the season in Monday's opener against the Mets. Because of a lat strain, he's worked just 53 2/3 innings and, before last Monday, hadn't started since June 28. Yet against the Astros on Monday, his fastball reached 95 m.p.h. and it looked like all systems go.
"His mechanics are so sound, you wouldn't even know he missed two months," Baker says. "His velocity was good. His command was good. And you know he competes as well as anybody.
"He's shocked us all, really. Which is a tribute to him and how hard he worked in his running and conditioning."
And Billy Hamilton has to make the postseason roster, doesn't he? There is no official word from on high in Cincinnati – not yet – but, come on. He reached base four times Sunday in a rare start – Shin-Soo Choo has a sore thumb and is expected back Monday – scored twice and stole two more bases.
Hamilton now is 12 for 12 in stolen base attempts since joining the Reds on Sept. 2 and consistently has been a difference-maker. Sending him in to pinch-run is like plugging a lamp into a socket. The light just comes on. He changes games, rattles opponents and leaves a vapor trail that's been absent since the Apollo launches.
Baker smiles and talks about how much he loves speed, invoking names like Bake McBride and Vince Coleman, old Cardinals who were as much relay team as baseball club.
Between Hamilton's legs and closer Aroldis Chapman 's arm, the Reds have high-end skills like few others. Whoosh!
They also have a similar, sturdy foundation to the one that nearly took down the Giants last year. Bronson Arroyo was ghost-white sick Sunday but battled through five innings. Sure, the seven runs the Reds scored in the first two worked as well as any spoonful of Pepto-Bismol, and Arroyo clearly was nowhere near his sharpest. But a win is a win, especially now.
"We needed two of three no matter what or no matter how we did it," Arroyo says.
Arroyo (14-11), Mat Latos (14-6) and Mike Leake (14-6) give the Reds their first trio of 14-game winners since Jack Billingham, Don Gullett and Gary Nolan each won 15 back in 1975.
And Jay Bruce , the Reds' own leading MVP candidate, this year joined Dave Parker (1985) and Frank Robinson (1962) as the only three Reds ever to produce at least 40 doubles, 30 homers and 100 RBI in a season.
Really, the only soft spot for the Reds this weekend, strange as it sounds, was Joey Votto . He is not having a good season defensively, and another error early Saturday night helped the Pirates erase a 1-0 deficit. He also missed a pickoff throw in the same game – that error was charged to the pitcher, Homer Bailey , and Votto was out on a 6-4 play Sunday when he would have been safe at second had he either, A) Run harder, or, B) Slid.
He did win Friday night's game with a 10th inning homer and reached base five more times Saturday and Sunday (and scored twice), so we're not exactly talking about a stiff here. But for a former MVP (2010), there are moments when he looks a little foggy.
On the other hand, Reds pitchers mostly neutralized the Pirates' Andrew McCutchen , who, as of now, probably is the favorite to win this year's NL MVP award. McCutchen went 0 for 10 this weekend, including 0 for 8 after Sam LeCure smoked him in the arm with a pitch Friday night (he did score a key run after drawing a walk Saturday).
"I wish you hadn't said that," Baker says. "We've got to play them three more games. He's one of the best in the league. He's one of the best in baseball."
With his team getting blown out, Pirates manager Clint Hurdle made a class move going into the top of the ninth Sunday, sending Starling Marte out to replace McCutchen in center field. McCutchen jogged in to a standing ovation from what was left of the crowd of 38,699, the 23rd sellout this season.
It was both touching and eerie. Because as you watched McCutchen jog off, you wondered whether it was his last appearance of the summer in PNC Park. You wouldn't think so, given that the Pirates are virtually assured of a playoff spot. And after finally busting through the glass ceiling, it will be a crying shame if the Pirates wind up without a home playoff game.
But that now may mean having to win two of three in Cincinnati next weekend.
"You try to put things into perspective," Pirates second baseman Neal Walker says. "When you're in it, you see what's going on around you and you want more."
Minor problem – for now – is, the Reds got more this weekend.
"You see it every year, a team gets hot at the end and rolls through the playoffs," Cozart says. "Look at what the Giants did last year, and the Cardinals the year before that.
"It's big, to be hot at the right time. We've put ourselves in a spot that a lot of teams envy."
The Astros are still in control of the series, but have been unable to solve Yankees pitch...

The Astros and Yankees will play Game 4 in the Bronx early Tuesday evening

Yankee Stadium helped, but there's more to it than that
Aaron Judge and CC Sabathia had big games

Judge had an impact on both sides of the ball in Game 3

Ausmus most recently managed the Tigers, but won't be headed to Queens