Reds feel wronged by NL All-Star manager Tony La Russa, La Russa upset
The Reds-Cardinals rivalry escalated into a brawl two years ago, and the Reds believe that led Tony La Russa to leave Johnny Cueto and Brandon Phillips off the National League All-Star roster.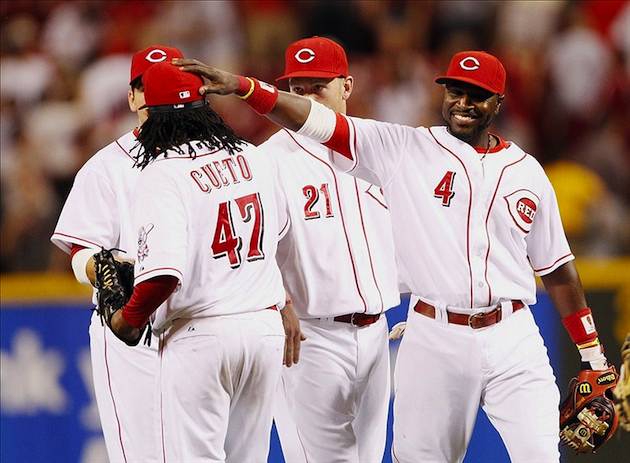 Tony La Russa is no longer the Cardinals' manager, but it appears the rivalry with the Reds is still alive, as Cincinnati players and manager Dusty Baker lashed out at what they saw as a snub of second baseman Brandon Phillips and starter Johnny Cueto by the National League All-Star team skipper.

While Phillips refused to talk to the media on Sunday in San Francisco, Cueto didn't -- and he didn't hold back. From the Cincinnati Enquirer:
"I see that I have great numbers," he said. "I thought the way I pitched this year, I'd have a chance to go to the All-Star Game. I don't know what happened. I don't if know the manager of All-Star Game is pissed at me because I went out with one of his girlfriends."
Phillips did tweet, and if you read between the lines, he did feel like he was wronged.
#NoVaseline... H A H A H A H A H A H A H A H A H A H A.... #StayHungryMyFriends

— Brandon Phillips (@DatDudeBP) July 1, 2012
Cueto and Phillips were at the center of a 2010 brawl between the Reds and the Cardinals. Phillips had called the Cardinals a name and catcher Yadier Molina took offense and a fight broke out. At some point, Cueto was pinned against the screen and started kicking. He kicked St. Louis catcher Jason LaRue in the head, causing a concussion that would end LaRue's career.

Baker pointed directly at La Russa when asked about the omission of Phillips and Cueto from the NL roster. From the Enquirer:
"A snub like that looks bad. Johnny and Brandon were at the center of skirmish between us and the Cardinals. Some of Cardinals who aren't there anymore are making some of the selections."
He also invited reporters to "play up" his comments.


Both Cueto and Phillips made our All-Snub team, but it should be noted that the players vote sent Houston's Jose Altuve and St. Louis starter Lance Lynn to the All-Star Game over Phillips and Cueto. As CBSSports.com Senior Writer Danny Knobler points out, La Russa had nine picks -- and four were mandated to be from teams other than the Reds. La Russa selected Wade Miley as the Diamondbacks' lone representative, Giancarlo Stanton as the Marlin's All-Star and Huston Street as the Padre. He also needed to pick a Phillies player, and he chose three, Cole Hamels, Jonathan Papelbon and Carlos Ruiz.

To fill out his roster, La Russa selected Clayton Kershaw of the Dodgers, the Nationals' Ian Desmond and the Reds' Jay Bruce. Now, there are nits you can pick -- does Cueto (9-4, 2.26 ERA) deserve the nod over Kershaw (5-4, 2.74) and Hamels (10-4, 3.08)? There's certainly a case to be made. And then there's Desmond, who is coming into his own (.276/.305/.483 with 13 home runs), over a guy with three Gold Gloves and a fourth one on the way. And what about Bruce (.257/.327/.526 with 17 home runs), does he deserve it over his teammates? But there will always be cases of what some see as snubs. But to the Reds, it is a little suspicious that the two principles in their brawl were left off?
La Russa said the fact Cueto was scheduled to pitch this upcoming Sunday -- thus making him ineligible to pitch in the All-Star Game -- worked against him and Brewers' starter Zack Greinke. Two things of note about that, Greinke is scheduled to start Saturday and not Sunday, and last year he raised some hackles of the Cardinals when he called St. Louis starter Chris Carpenter "phony."
"There was something to consider: both Greinke and Cueto are pitching Sunday," La Russa said, according to Adam McCalvy of MLB.com. "When you're splitting some pretty fine hairs, that worked against them."
La Russa had a little more to say to the St. Louis Post-Dispatch:
"If Dusty had been more interested in Cueto being on the team, then he wouldn't be pitching him on Sunday. Cueto probably would be on the team if he wasn't pitching Sunday.

"The comments Dusty made clearly disappoint me and are attacking my integrity. The All-Star experience is too important to let anything stand in the way of a decision like that.

"No way am I going to penalize anybody for any kind of past history. The fact is that Cueto is going to be pitching on Sunday. Some other day, he's probably on the team."
There is one small problem with that explanation, though. The rule barring starters from the Sunday before the All-Star Game from pitching in the game on Tuesday has been altered this season. Instead of being ineligible, starters who started on Sunday can now pitch on Tuesday, but they can only go one inning and are regulated to a pitch count.
Even the one no-doubt, fan-approved Red on the roster was a little less happy because Phillips and Cueto won't (for now) be joining him in Kansas City.

"That's frustrating. I knew I was going to be an All-Star. I was hoping those two guys, the five of us, would go to Kansas City," Votto told reporters (via the Enquirer). "As much as I don't want to get into pissing contest right now, as happy as I am for myself and Jay, I'm disappointed for the two guys who are very, very meaningful to this first-place ballclub."
For more baseball news, rumors and analysis, follow @EyeOnBaseball on Twitter, subscribe to the RSS feed and "like" us on Facebook.
Granderson heads north of the border for his age-37 season

What did the Pirates get in return for their franchise player?

Rivero could remain in Pittsburgh for some time to come
The White Sox, Angels, Athletics, Orioles and Marlins are the holdouts after Blue Jays fol...

The Pirates have several attractive trade chips if they decide to go into a full rebuild

Gerrit Cole was traded over the weekend and now McCutchen is on the move