Reds fire manager Dusty Baker
The Reds have decided to replace Dusty Baker as manager.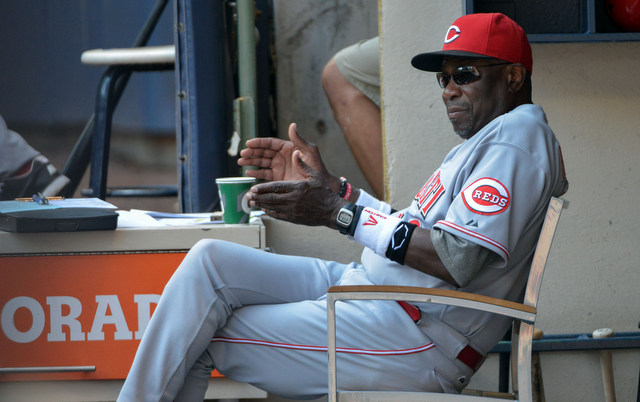 More Managers: Cubs fire Dale Sveum | Cubs intend to make big offer to Joe Girardi
The Reds have fired manager Dusty Baker, the team announced. GM Walt Jocketty said the team intended to keep Baker after Cincinnati's loss to the Pirates in the NL wild-card game on Tuesday.
"This was a very difficult decision to make," said Jocketty in a statement. "Dusty played an important role in the recent success of this organization, and we thank him for his contributions during his time here. We feel a change is necessary, however, if we are to continue to move the organization forward."
Baker, 64, has managed the Reds since 2008. They went 509-463 (.524) under his watch, including 90-72 in 2013. They finished third in the NL Central but claimed the second wild-card spot before being knocked out of the postseason by Pittsburgh.
Under Baker, Cincinnati won two division titles and had 90-plus victories three times. They also went to the playoffs on three occasions, but were eliminated in the first round each time. The Reds have not won a postseason series since 1995.
It's not often an organization as strong as the Reds replaces its manager. With an excellent core headlined by Joey Votto, Jay Bruce, Johnny Cueto, Mat Latos and Aroldis Chapman, among others, this figures to be one of the most desirable managing jobs in the game this offseason.
Before joining the Reds, Baker had previously managed the Giants and Cubs. He led all three clubs to the postseason and won the NL pennant with San Francisco in 2002. His career managerial record is 1,671-1,504 (.526).
Teams like the Nationals, Mariners, Cubs and maybe the Yankees will be looking for a new skipper in the coming weeks. A reunion between Baker and the Cubs seems unlikely, however.
Baker was under contract for one more year at approximately $3.5 million.
Get 15 percent off any order of more than $75 at CBS Sports Shop

Get your sports fans something that they'll wear all year

No, you're not imagining things. This MLB offseason has been very slow compared to the last...
Francesa will retire from radio next month, so he'll have plenty of free time next summer

The Twins need help in the rotation, and they may look to the trade market to find arms

Here are the bullet-points of what went down Tuesday regarding MLB and the Braves' punishm...