Reds GM confirms Billy Hamilton will be the team's center fielder
Ready or not, speedster Billy Hamilton is going to get a chance to be the Reds' center fielder and leadoff man in 2014.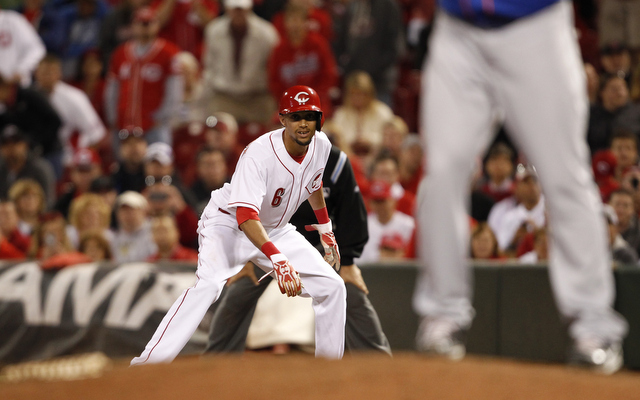 MORE: FA tracker: position players | FA tracker: pitchers
The Reds lost Shin-Soo Choo to free agency and their trade offer for Brett Gardner was rejected, so the team is left with a gigantic hole in center field and atop the lineup. Right now, their plan is to give both jobs to rookie Billy Hamilton, GM Walt Jocketty confirmed. Here's what he told John Fay of the Cincinnati Enquirer:
"He's the guy," Jocketty said. "We feel confident he can be a good leadoff hitter. He'll give us great defense. The only question is how often he can get on base. He'll start working on his bunting again after the first of the year. If he can master that, it will really help him."
Hamilton, 23, dazzled as a pinch-running specialist last September, stealing 13 bases in 14 attempts. He set a minor league record with 155 stolen bases in 2012 and swiped 75 more in 2013. Hamilton's base-stealing prowess is an elite tool and the reason he's made it to the show.
The more serious question is whether he can hit enough to make use of his speed and stolen base skills. Hamilton mustered a weak .256/.308/.343 batting line with 38 walks and 102 strikeouts in 547 Triple-A plate appearances this past summer, a performance befitting of a number eight hitter, not the leadoff hitter for a contender.
The free agent market offers few center field/leadoff alternatives and unless the Yankees relent on Gardner -- I'm sure they'd listen if the Reds make Homer Bailey available -- the trade market doesn't look much better. Hamilton may start the year with the team, but expect them to look for alternatives as the season progresses if he does not take off.
No other rookie in baseball history has hit more home runs than Judge has this year

Jays have said goodbye to Encarnacion and will to Bautista. Should they move on from Donaldson,...

Judge's big September means Jose Altuve has some serious competition for the award
Goldschmidt? Rendon? Blackmon? Stanton if he hits 62 HR? Who would be your pick?

Bruce Maxwell of the A's has been kneeling during the national anthem

Iowa and Missouri are two programs mixing technology and analytics