Reds GM told Brandon Phillips no trade talks 'right now'
For the first month-plus of the offseason, it's been assumed the Reds were going to trade Brandon Phillips, but that situation may be cooling a bit.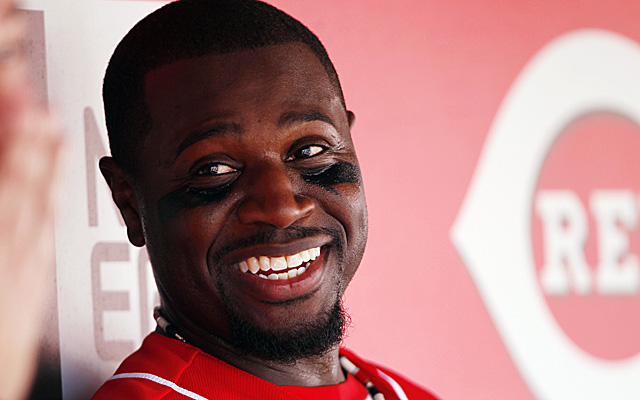 For pretty much the entire offseason, reports have indicated that the Reds were actively trying to trade All-Star second baseman Brandon Phillips, but for now that situation seems at the very least to be on hold.
Late Tuesday night, Ken Rosenthal of Fox Sports reported that a deal involving Phillips "appears increasingly unlikely."
Wednesday, Reds general manager Walt Jocketty told Reds reporters that he discussed the situation on the phone with Phillips. He even mentioned the upcoming club event with fans -- Redsfest. This is significant because the initial team press release didn't mention Phillips as one of the players who would be present, leading some to believe he was as good as traded.
Here's Jocketty, via C. Trent Rosecrans:
"We had a nice long talk (Tuesday), we talked about his place on the club and I told him I don't really have any talks going with any clubs right now, not that that couldn't change, but as of right now you're part of this club and Redsfest is an important part of our program," Jocketty said. "(I told him) you love the fans, the fans love you and I think it'd be disappointing if you weren't there. I think he might end up showing up."
For me, the operative words there are "right now" and "not that that couldn't change." Obviously Jocketty is open to dealing Phillips. My colleague Jon Heyman reported that the Yankees and Reds were in contact about a possible deal in early November and Rosecrans added in his article that the Reds contacted some other teams as well.
So, again, consider this situation on hold more than anything else. The Reds might keep him, but that doesn't mean they definitely won't trade him.
Phillips will turn 33 next season and has four years and $50 million left on his contract. He hit .261/.310/.396 with 18 homers and 103 RBI last season, in addition to taking home his fourth Gold Glove.