Reds honor Joe Morgan; Pete Rose allowed by MLB to attend
The Reds unveiled a Joe Morgan statue Saturday and honored 'The Big Red Machine.' Though banned from baseball, MLB allowed Pete Rose to attend all festivities.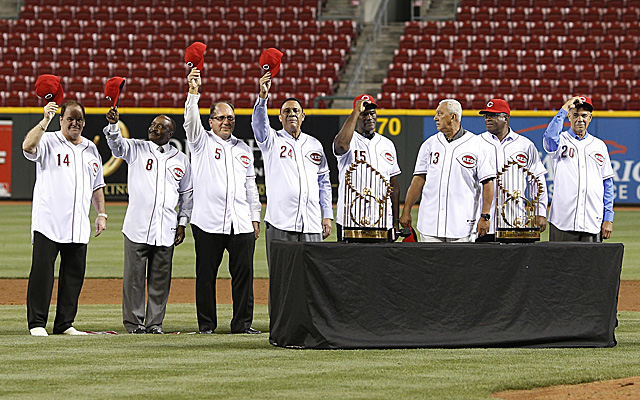 More MLB: Scoreboard | Standings | Probable Pitchers | Sortable Stats | Odds
Hall of Famer Joe Morgan was honored by the Reds Saturday in Cincinnati's Great American Ball Park, as a statue was unveiled amongst the festivities. Also, the Reds' "Great Eight" starting lineup from the back-to-back World Series championships in 1975 and 1976 was honored on the field.
Notable was that, yes, banned-from-baseball Pete Rose was allowed to join. His attendance was approved by commissioner Bud Selig.
From the Associated Press:
"I want to thank Commissioner Bud Selig for allowing us to have the 'Great Eight' on the field last night," Morgan said Saturday before the bronze sculpture -- which depicts him just starting to steal a base -- was unveiled near the main gates at the northwest corner of the ballpark complex. "It's an unbelievable experience to be with all of my teammates."
Morgan obviously wouldn't have had to thank Selig for allowing them together if it weren't for Rose, so that would be the reason for his gratitude.
There was a celebration Friday night -- pictured above -- and then the former players were introduced to the fans Saturday afternoon before the Reds took on the Dodgers. The eight: Johnny Bench, Tony Perez, Joe Morgan, Dave Concepcion, Pete Rose, George Foster, Cesar Geronimo and Ken Griffey.
Morgan then threw out the ceremonial first pitch.
No, you're not imagining things. This MLB offseason has been very slow compared to the last...

Francesa will retire from radio next month, so he'll have plenty of free time next summer

Get your sports fans something that they'll wear all year
Get 15 percent off any order of more than $75 at CBS Sports Shop

The Twins need help in the rotation, and they may look to the trade market to find arms

Here are the bullet-points of what went down Tuesday regarding MLB and the Braves' punishm...