Reds' Mat Latos accuses Indians of stealing signs
Reds starter Mat Latos said the Indians put 'better swings on the ball' when they had a runner on second than when they didn't. Two of the three homers he surrendered came with runners on second -- but five other extra-base hits didn't.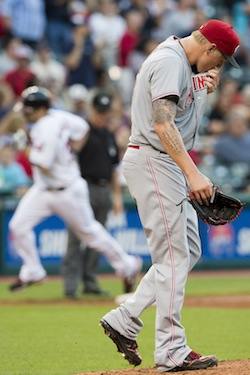 Last week after Mat Latos and Derek Lowe faced off in Cincinnati, Lowe went off to the media about Reds manager Dusty Baker. Monday night the two were on the mound again, and this time it was Latos who had some pointed words for the other dugout.

While Latos didn't exactly come out and say the Indians were stealing signs in Monday's 10-9 victory at Progressive Field, he said everything but.

"I was a little up in the zone. I thought I made some good pitches that they spit on with a runner on second base," said Latos (via MLB.com), after giving up seven runs on eight hits in just four innings on Monday. "I suppose it was kind of ironic. We changed up the signs, for the last hitter unfortunately. The outcomes changed when we changed up the signs today."

When asked if the Indians were stealing signs, he responded: "That's kind of the idea," he said (via the Cincinnati Enquirer). "When you go back and look at video, a couple runners on second base, they put better swings on the ball than they did most of the time without a runner on second base."

Two of the Indians' three home runs off of Latos came with a man on second -- with catcher Carlos Santana on second base for Lonnie Chisenhall's home run in the second inning and with outfielder Michael Brantley on second for Casey Kotchman's homer in the fourth inning. Even if that is the case -- five of the Indians' hits against Latos came without a runner on second base, and all of those went for extra bases.

Latos ended up with a no-decision, but saw his ERA rise from 4.64 to 5.20. The Reds had won in his five previous starts.
For more baseball news, rumors and analysis, follow @EyeOnBaseball on Twitter, subscribe to the RSS feed and "like" us on Facebook.
The lefty starter is coming off a terrible season

After acquiring Ian Kinsler and Zack Cozart in recent days, the Angels are trending upward

Cozart's coming off a big season as the Reds' shortstop
The veteran slugger spent the last eight seasons with Cleveland

The Padres may be poised for an active winter

Yes, Bryce Harper is going to make a lot of money next winter