Reds' Shin-Soo Choo sits Saturday with a jammed thumb
Battling to catch the Cardinals in the NL Central, Reds' leadoff man Shin-Soo Choo sustained a jammed thumb diving into first base on Friday night. Cincinnati hopes it's a minor injury that only costs him a day or two. ...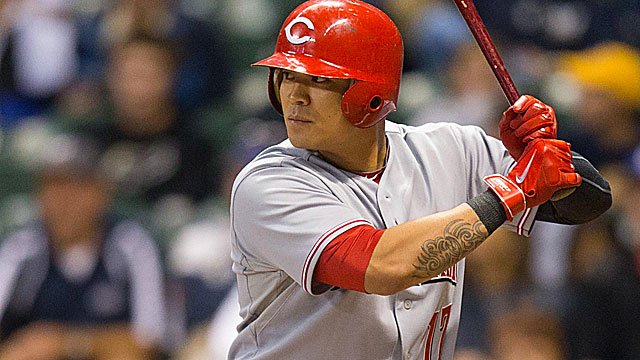 PITTSBURGH – The Reds are heading into the middle game of their weekend series without leadoff man and center fielder Shin-Soo Choo, who jammed his left thumb with a head-first slide into first base Friday night.
Reds manager Dusty Baker said he doesn't know whether Choo will miss just one game or more, though he did say the concern isn't such that an MRI exam will be required. At least, not for now.
"I know they're hustling, but I hate to see guys slide head first, especially into first base," Baker said. "You don't get there quicker. Actually, you get there slower."
Choo has had problems with his left thumb before, particularly in 2011 when he missed six weeks with a broken bone after Jonathan Sanchez hit him with a pitch. That resulted in surgery.
Choo's absence is particularly ill-timed for the Reds with only eight games remaining. He leads all major-league leadoff hitters in both walks and on-base percentage, and he's second to Oakland's Coco Crisp in leadoff homers. He has 109 walks and 105 run scored.
The injury occurred when he dove into first in the ninth inning attempting to beat out a ground ball.
"We don't know the severity," Baker said. "We don't know how long he's going to be out. We've just got to go from here."
Baker said the decision to start Derrick Robinson in center field and atop the order over speedster Billy Hamilton on Saturday night was because he likes Robinson matching up with Pirates veteran A.J. Burnett better.
"You've got a wily veteran facing a kid," Baker said of the potential Hamilton-Burnett matchup.
The Reds manager said Hamilton likely will start Sunday against Pittsburgh's Jeff Locke.
Mark Appel was one of the players being moved about on Monday night

Garrett Cooper is the answer to a trivia question

We still don't know if Ohtani will be jumping to the majors yet
Kinsler is a free agent next winter

Opening Day will be Thursday, March 29 -- the earliest opening day in MLB history

The World Series champion and big-time wrestling fan was on hand Sunday night