Reds' Todd Frazier to step in for hobbled Scott Rolen
With Joey Votto back in the Reds' lineup, third baseman Scott Rolen is bothered by a back injury, opening another spot for Todd Frazier.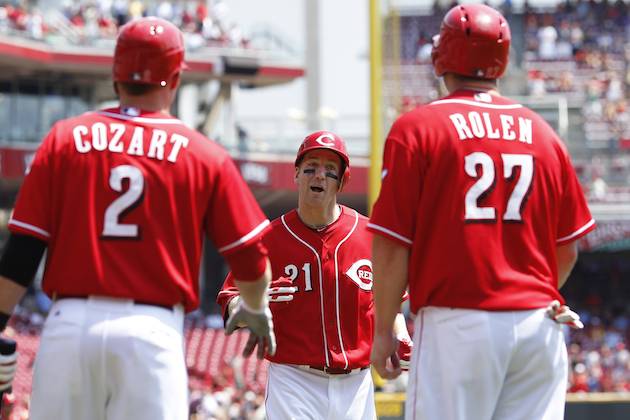 Todd Frazier has filled in for both Joey Votto and Scott Rolen this season. (Getty Images)
As the Reds prepared for life again with first baseman Joey Votto there was plenty of hand wringing over what would happen with rookie Todd Frazier, who jumped to the front of the Rookie of the Year class in Votto's absence.
That dilemma might have sorted itself out. Cincinnati third baseman Scott Rolen is out with a bad back and will likely miss at least this weekend's series with the Astros. Rolen had an MRI that showed a protrusion in two discs in his lower back, he told MLB.com's Mark Sheldon.
"Since my setback in Chicago [Aug. 9-12], I've been uncomfortable and not able to perform and move offensively and defensively the way I hoped to have by this point," Rolen told MLB.com.
In 12 games since the Reds played in Chicago, Rolen has gone 9 for 41 (.220) without a home run. In his 12 games before the Chicago series, he was 15 for 37 (.405) with two home runs.
Frazier played third base in the Reds' game on Wednesday, Votto's first since knee surgery.
In the 48 games that Frazier played with Votto on the DL, he hit .300/.347/.500 with eight home runs and the Reds recorded a 33-15 record in those games. Frazier has started 55 games at third base this season, 36 at first base, five in left field and one as a DH. Last season, he played two games at second base and two at shortstop. Overall, he's hitting .289/.347/.531 with 18 home runs and 62 RBI.
"Everyone wants to know what's going to happen next week," Reds manager Dusty Baker told reporters (via the Cincinnati Enquirer). "I don't even think it's right to ask. But I answer it to the best of my ability. But you don't know. You never have enough pitching, you never have enough players, you never have enough anything.
"Something always works out. Sometimes, you've got to let life run its course. I'm just glad we have the personnel we have."
Reds shortstop Zack Cozart is also missing his third straight game with a sore back. Wilson Valdez is starting Friday's game against the Astros. Rookie Didi Gregorius made his big-league debut on Wednesday at shortstop.
For more baseball news, rumors and analysis, follow @EyeOnBaseball on Twitter, subscribe to the RSS feed and "like" us on Facebook.
Contreras said on Tuesday that he's willing to pay the price

And their offseason decisions prove it

Hosmer recently signed an eight-year contract with San Diego, and his usual No. 35 was spoken...
As part of the five-player deal, Brandon Drury is headed to the Bronx

Stoneman Douglas caps will be worn during Friday's spring training games

Arrieta is the top starting pitcher left on the market