Reds trade Jonathan Broxton to Brewers
The Reds have traded reliever Jonathan Broxton to the Brewers.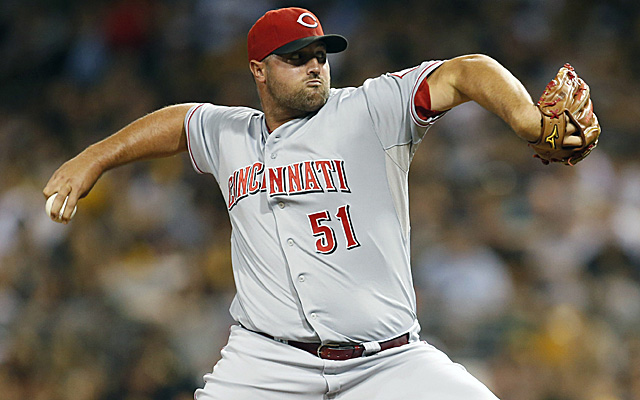 The Cincinnati Reds have traded right-handed reliever Jonathan Broxton to the first-place Milwaukee Brewers for two players to be named later, the Brewers announced Sunday.
Broxton, 30, has 21 holds and seven saves against six blown saves with a 1.86 ERA, 1.01 WHIP and 37 strikeouts in 48 1/3 innings this season. The two-time All-Star is signed through 2015 with a club option for 2016 (which becomes a mutual option now that he's been traded). He's set to make $9 million next season.
It's likely that Broxton's role will be to setup for Francisco Rodriguez initially, though it's feasible to see Broxton taking over at closer at some point. K-Rod has allowed runs in three of his last four outings and sports a 4.86 ERA in his last 18 outings. Of course, Broxton's ERA in August is 5.23, so it's not like either one is hot right now.
There's no immediate word on the Reds' possible return. Given the salary, though, it's likely this is mostly a salary dump and the players to be named won't be highly touted prospects.
Sunday is Aug. 31, which is the final day that teams can acquire players and still have said players be eligible for the postseason roster. The Brewers head into Sunday with a one-game lead in the NL Central.