Reds want Joey Votto to alter approach, but only slightly
Does Joey Votto need to swing more? He's led the NL in OBP in the past four seasons, but his RBI total is a hot topic of discussion.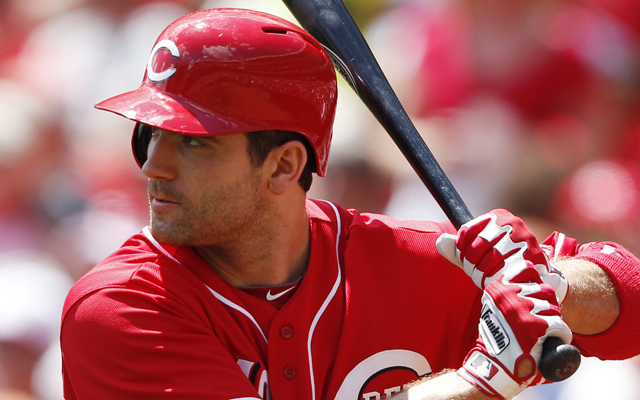 MORE: FA tracker: position players | FA tracker: pitchers | Winter Meetings updates
ORLANDO - A big topic of discussion among Reds fans last season was the approach of perennial MVP candidate Joey Votto. For the fourth straight season, he led the NL in on-base percentage and for the third straight season he led the NL in walks.
But Votto is a middle-of-the-order hitter and -- right or not -- there was a lot of focus on his RBI total. That is, how did he only drive home 73 runs in an MLB high 726 plate appearances?
Many believe he's not swinging enough. New Reds manager Bryan Price would like to see that change, but within reason.
"I think what we hope is that he's able to take advantage of more of those triple counts, those times he's in a good count and maybe not quite as selective." Price said Monday in Orlando, noting that he'd still only want Votto to swing at strikes.
An interesting note here is that -- while Votto is incredible at getting on base -- he had 251 plate appearances end after counts with three balls (that is, 3-0, 3-1 or full-count pitches that resulted in the end of a plate appearance) and he only had 15 RBI in those situations.
He went 2-for-4 in 39 3-0 counts and 9-for-20 (.450) in 61 3-1 counts. That's good success in obvious hitters' counts, but do you want him swinging more often? It seems many do and Price is aware, even if he doesn't agree. 
"I think it's been mentioned [that Votto] needs to extend the plate to drive in runs and I don't believe that," Price said. "It can be very difficult to work hard to get an understanding of the strike zone and be able to manage it like Joey does and then ask him to go outside that strike zone to be productive with runners in scoring position."
Ah, the great runners-in-scoring-position discussion. Votto detractors screamed about it all season. He actually hit .291 with runners in scoring position, but he walked 51 times in 193 plate appearances in those situations. So the discussion centers on whether or not he should be walking less and swinging more. It is worth noting that only seven of his 24 homers came with at least one runner on base, but we have to keep in mind that teams are much more reluctant to give Votto something to hit with runners on base. And if he swings at bad pitches, he's more likely to get himself out instead of walking and giving someone else a chance.
Regardless, as long as Votto continues to be an on-base machine with less than 100 RBI, a certain segment of the baseball world is going to think he's not earning his substantial paycheck. I'd rather a player not make outs (OBP) than make them while trying to impress an RBI-loving fan base and it sounds like Price and the Reds tend to agree -- even if they want a slightly tweaked approach.
Does the Jackson signing mean the Giants are out on Lorenzo Cain?

Acuna edged out Shohei Ohtani and Vladimir Guerrero Jr.

There's no reason to run over the cases for and against Bonds, so let's have fun instead
The coveted right-hander would certainly be a fit in Milwaukee

We rate the best mustaches from random baseball cards because, why not?

Colon wants to break a Dennis Martinez record