Reds will make Billy Hamilton a September call up
The Reds announced that they 'expect' to add speedster Billy Hamilton to the expanded roster Sept. 1.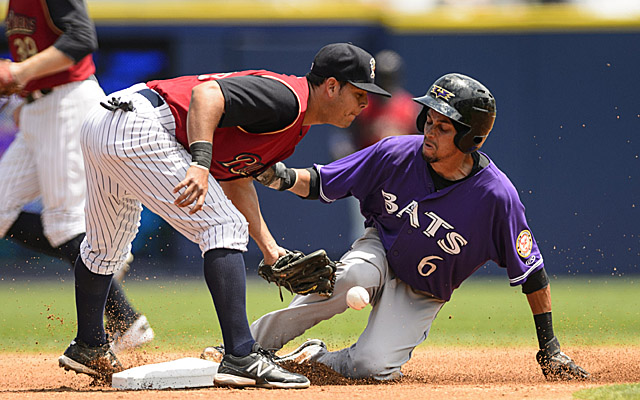 Snyder: Hamilton headlines group of possible impact debuts in September
Lovers of speed, prospects and fantasy baseball take note: Billy Hamilton is coming.
In a press release early Friday evening, the Reds announced a bevy of roster moves that they "expect" to make September 1. Among them, purchase the contract of Triple-A's version of Usain Bolt, Billy Hamilton.
Hamilton, 22, was a shortstop but has transitioned to center field this season. He's hitting .256/.308/.344 with 18 doubles, four triples, six homers, 41 RBI and 74 runs this season. Oh yeah, he also has stolen 75 bases in 90 chances despite getting on base only 166 times. Between High-A and Double-A last season, Hamilton stole 155 bases -- an MLB-affiliated professional baseball record -- in 132 games.
Hamilton will surely get a spot start or two, but expect him to be heavily used as a late-inning pinch runner.
The lefty starter is coming off a terrible season

After acquiring Ian Kinsler and Zack Cozart in recent days, the Angels are trending upward

Cozart's coming off a big season as the Reds' shortstop
The veteran slugger spent the last eight seasons with Cleveland

The Padres may be poised for an active winter

Yes, Bryce Harper is going to make a lot of money next winter