Reggie Jackson doesn't want people calling David Ortiz 'Mr. October'
About all this talk of David Ortiz being the "new Mr. October," Reggie Jackson has something to say. "There's only one Mr. October."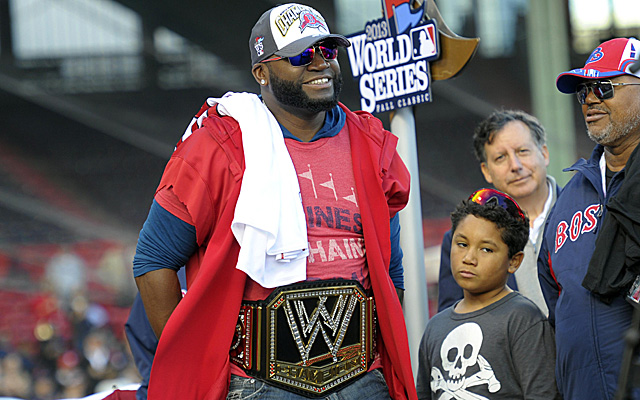 After a ridiculous World Series, where he hit .688/.760/1.188 and took the MVP, some have begun calling Red Sox slugger David Ortiz the new "Mr. October."
That, of course, is the historic nickname that's been reserved for Hall of Famer Reggie Jackson.
In response, via nydailynews.com, Jackson offered up the following:
"He did a great job. There's only one Mr. October."
I totally agree. Aren't we creative enough to come up with a different nickname? Jackson's long been Mr. October. That shouldn't change and throwing a "new" in front of it doesn't make it any less wrong in my humble opinion.
Just for fun, let's check out Jackson vs. Ortiz's career postseason numbers. The counting stats can be judged on a similar level, because Ortiz has played in 82 postseason games while Jackson appeared in 77.
RJ: .278/.358/.527, 14 2B, 1 3B, 18 HR, 48 RBI, 41 R
DO: .295/.409/.553, 21 2B, 2 3B, 17 HR, 60 RBI, 51 R
Jackson has two World Series MVPs while Ortiz has one in addition to one ALCS MVP.
So, actually, Ortiz has been better in October than Mr. October on the whole. Still, I'm not into copying nicknames. Let's come up with something else. Or just stick with Big Papi and have a mental image of how great he has been in the playoffs in his outstanding career.
Hat-tip: Big League Stew
Colon wants to break a Dennis Martinez record

The Twins have been rumored to be interested in Darvish all winter

Rolen is one of the best third basemen of all time, but you wouldn't know it based on this...
Neither Josh Donaldson nor Brian Dozier have talked about a new contract extension

Francisco leads the Dominican Winter League with seven home runs

Thome deserves enshrinement and here's why the case against him does not hold up