Regular season neck injury leaves Clay Buchholz fresh for ALCS
Red Sox ALCS Game 2 starter Clay Buchholz only made 16 starts this season due to a neck injury, but it left him nice and strong for October.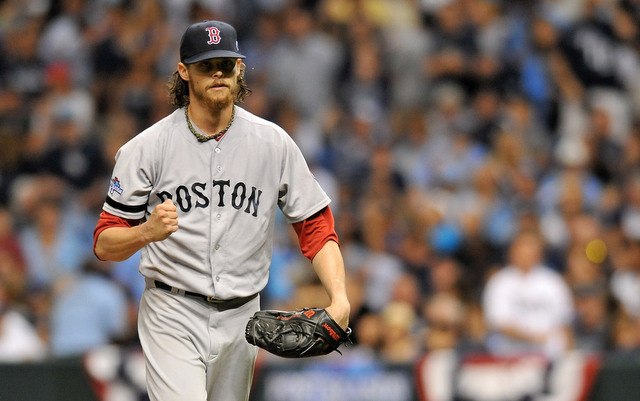 More ALCS: Scherzer: Watching Cabrera play hurt is inspiring | Peralta not concerned about Green Monster defensively | Who has the edge?
BOSTON -- A nagging neck injury cost Red Sox right-hander Clay Buchholz more than three months of the regular season, limiting him to only 16 starts. They were 16 outstanding starts (1.74 ERA and 4.3 WAR), but his season wasn't as good as it could have been.
Most starters on the four remaining playoff teams are approaching the 200-inning plateau if they haven't exceeded it already. Buchholz, however, has thrown just 114 1/3 innings this year (regular season plus his ALDS start). That has left him fresh for the postseason.
"Yeah, my body feels good," said Buchholz on Friday. "It took a little bit to get back into pitching shape and getting my legs back under me, but now [I feel good]."
Buchholz added that while no one is 100-percent at the moment, he definitely feels stronger right now than he usually does this time of the year. There is fatigue but not as much.
The 29-year-old right-hander had numerous setbacks during his rehab, so each time he went out to play catch or throw in the bullpen, there was always some concern in the back of his mind. He's over it now, but getting there was a challenge.
"I think the big hump was getting over the fact my body was well and not thinking about something else rather than just making a pitch," added Buchholz. "That's a hard thing to do -- going through an injury I've never had to deal with before. Not knowing until you just pick up a ball and say 'Okay, I'm going to throw this ball with 100-percent effort' and hope nothing happens. After that, the first time I did that, I felt really good."
The Red Sox have four quality starters in their playoff rotation, but Buchholz has the most potential to be utterly dominant in a given outing. Those 16 regular season starts show he's as good as anyone when healthy.
Buchholz is healthy now. Healthy and feeling like he usually does in June even though it's the postseason in October. In a way, the neck injury may have been the best thing that happened to the Red Sox's postseason chances.
The coveted right-hander would certainly be a fit in Milwaukee

We rate the best mustaches from random baseball cards because, why not?

Colon wants to break a Dennis Martinez record
The Twins have been rumored to be interested in Darvish all winter

Rolen is one of the best third basemen of all time, but you wouldn't know it based on this...

Neither Josh Donaldson nor Brian Dozier have talked about a new contract extension