Remember: Bourn, Lohse were unsigned at this time in 2013
Here is perhaps some good news for the five unsigned free agents who declined qualifying offers: Both Michael Bourn and Kyle Lohse were in their shoes last year and still ended up with multi-year deal worth at least eight figures per season.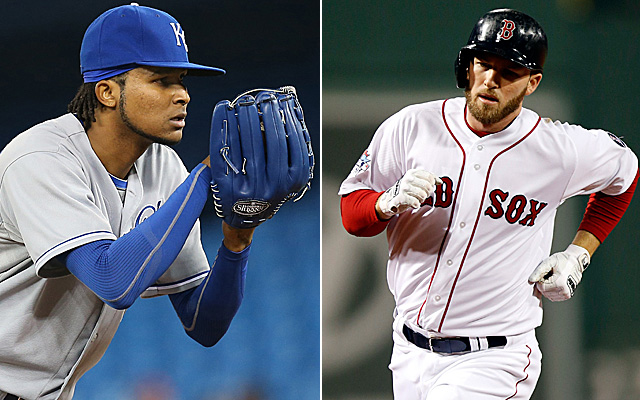 MORE: FA tracker: position players | FA tracker: pitchers | Morales, PIT with mutual interest?
By this time next week, pitchers and catchers will have reported to camp for each of 30 Major League Baseball teams. Two have already reported, in fact (click here for the camp dates for each club).
And, yet, there are still five free agents who each declined a one-year, $14.1 million qualifying offer from their respective 2013 clubs in order to hit free agency. Draft compensation accompanied each on the market, just as it did with Kyle Lohse and Michael Bourn last season.
And the good news I will provide to Nelson Cruz, Stephen Drew, Ervin Santana, Ubaldo Jimenez and Kendrys Morales is that both Lohse and Bourn were still available at this time last offseason and each of them landed a multi-year deal worth at least eight figures per season.
Bourn agreed to a four-year, $48 million contract with the Indians on Feb. 12.
Lohse's agreement didn't come until the incredibly late date of March 25, but he still landed a three-year, $33 million deal with the Brewers -- who were forced to cough up their first-round pick in the process.
While every situation is unique, let those two signings be a reminder that all isn't lost for the five remaining free agents who declined qualifying offers.
Remember, the arbitration process is close to concluding league-wide, meaning payrolls are coming into more certain focus while there are always injuries and underperformance concerns in spring training. Not only that, but it's possible teams on the cusp of contention start to feel more confident once they see what they have in spring training -- and adding that one extra piece might be what they feel could push them into the playoffs.
So while time is running out, the cases of Bourn and Lohse last season illustrate the fact that the situations for Cruz, Drew, Santana, Jimenez and Morales haven't yet reached the stage that we should consider dire.
Despite a seven-game ALCS, the Houston rotation lines up nicely for the World Series

Sabathia and the Yankees are a perfect fit for each other

Bregman threw out Greg Bird at the plate to preserve the Astros' lead
The 2017 World Series begins Oct. 24

The Yankees returned to contention even quicker than their front office expected

The Dodgers have the better defense, rotation, and bullpen, in our estimation