Remembering Mario Cuomo: former Pirates prospect, fantasy baseball fan
Former Governor of New York Mario Cuomo passed away Thursday. He once played professional baseball and was also an avid fantasy baseball player.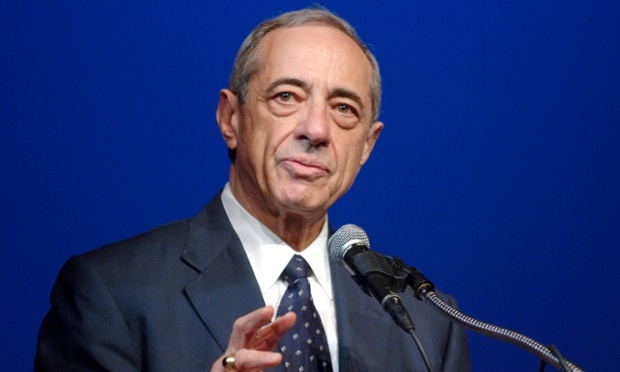 On Thursday, former three-term Governor of New York Mario Cuomo died of natural causes at the age of 82. He is perhaps most famous for criticizing President Ronald Reagan's policies during his speech at the 1984 Democratic National Convention. You can read more about Cuomo's life at CBS News.
This is blog is called Eye on Baseball, however, not Eye on Politics. You're coming here to read about baseball, and, as it turns out, Mr. Cuomo was very much a fan of our beloved pastime. In fact, he was more than a fan. Cuomo played at St. John's University and signed with the Pirates in 1952. This was before the days of the draft, remember.
In his only season of pro ball, the 20-year-old Cuomo hit .244 with 10 doubles, two triples and one home run in 81 games with the Brunswick Pirates of the Georgia-Florida League, a Class-D affiliate. Here he is in the team photo:
Mario Cuomo, the baseball player. He played one year in the Pirates' minor league system in 1952 as a center fielder. pic.twitter.com/JzEe7WMLio

— Albany Archives (@AlbanyArchives) March 24, 2014
Cuomo, an outfielder, suffered a concussion after being hit in the head by a pitch -- batting helmets were not yet mandatory -- and retired to begin his career as a lawyer.
Back in 2011, Baseball Past and Present posted a scouting report of Cuomo, the baseball player (h/t Cliff Corcoran):
A below average hitter with plus power. He uppercuts and needs instruction…Potentially the best prospect on the club and in my opinion could go all the way…He is aggressive and plays hard. He is intelligent…Not an easy chap to  get close to but is very well liked by those who succeed in penetrating his exterior shell. He is another who will run you over if you get in his way.
Mickey Mantle, who received a small signing bonus than Cuomo when he signed as an amateur, said Cuomo "couldn't hit a barn with a paddle." Here's how Cuomo evaluated himself as a player:
I was not a good prospect really because I didn't think I was good enough. And we learn from the rest of our lives, you can't make it anywhere unless you go all out and that's part of baseball, too. You've got to give it everything.
Cuomo remained a baseball fan as he climbed through the political ranks. In fact, he was one of the first public figures to admit he played fantasy baseball, saying he always tried to stack his team with Italian-American players.
In 1994, Cuomo was featured in Ken Burns' series Baseball, in which he discussed his life in the game before getting into politics. Unsurprisingly, the old school Cuomo admitted to being a fan of bunting. From PBS:
"It is a community activity. You need all nine people helping one another. I love bunt plays. I love the idea of the bunt. I love the idea of the sacrifice. Even the word is good. Giving yourself up for the good of the whole. That's Jeremiah. That's thousands of years of wisdom. You find your own good in the good of the whole. You find your own individual fulfillment in the success of the community — the Bible tried to do that and didn't teach you. Baseball did."
On a more serious baseball note, in February 2011 a New York City bankruptcy judge appointed Cuomo as mediator in a case brought against the Wilpon family -- owners of the Mets -- after they were caught up in Bernie Madoff's Ponzi scheme. Irving Picard, who was appointed trustee and involved in recovering funds from Madoff's scandal, was seeking $1 billion from the Wilpons.
About a year later, the Wilpons and Picard settled the suit for $162 million. The two sides exchanged proposals and counter-proposals for months and it wasn't until a trial was imminent that they settled. Here's what Cuomo told Anthony DeStefano and Steven Marcus of Newsday after the settlement:
"When you get to this, the moment of truth, that new urgency is the push that gets them over the line," Cuomo said. "The closer you get to reality of the trial, the more you feel the dangers, the heat coming off it."

...

"They came (to my office). I spoke to them, I simply made the pitch. 'This is your last chance,' " recalled Cuomo. "Number one, they may lose. Number two, they may win and then face an appeal. Number three, in either case it's going to cost a fortune."
Cuomo's legacy will always be built around politics, but, aside from all of that, he was once a promising baseball player and always an avid fan of the game. He even played fantasy baseball like millions of others.
CBS Sports HQ Daily Newsletter
Get the best highlights and stories - yeah, just the good stuff handpicked by our team to start your day.
Please check the opt-in box to acknowledge that you would like to subscribe.
Thanks for signing up!
Keep an eye on your inbox for the latest sports news.
Sorry!
There was an error processing your subscription.
The Brewers' backs are against the wall and the Dodgers can win the pennant for the second...

The Diamondbacks will at least listen for offers for Goldschmidt

SportsLine's Mike McClure, a DFS pro with nearly $2M in winnings, gives optimal lineup adv...
The Astros are fighting the clock as much as anything

Adam Thompson is a dialed-in MLB handicapper.

Price tossed six scoreless innings on short rest in ALCS Game 5