Reminder: Carl Crawford really didn't like Boston
Remember that Carl Crawford didn't enjoy his time in Boston? If not, he's going to let us know again.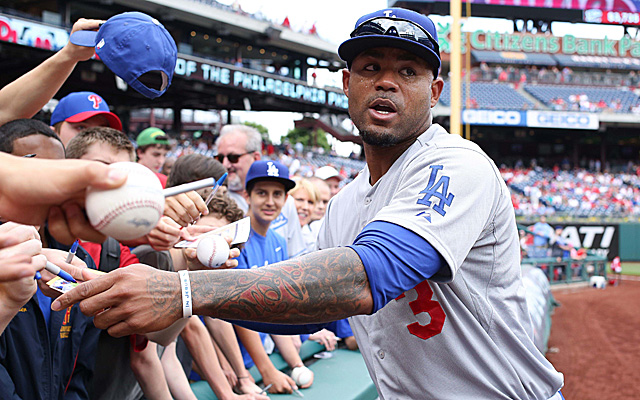 More MLB: Power Rankings | Expert Picks | Latest news & notes | Fantasy news
After finishing seventh in AL MVP voting in 2010, Carl Crawford hit free agency and departed the Rays for the Red Sox, signing a seven-year, $142 million deal. In parts of two seasons before being traded to the Dodgers, Crawford was hampered by injuries and hit just .260/.292/.419 (89 OPS+).
Ever since he's been gone, he's made no secret that he didn't enjoy his time there and he often brings up the Boston media in doing so.
He did it again. Here are some quotes he gave Boston outlet WEEI.com on his time there and where he is now:
"That place is going to be the same forever and I don't want no part of it," Crawford told WEEI.com Thursday night, referencing his professional home for 1 1/2 years, Boston. "I'm happy where I'm at right now."

---

"It was just different for me," he said. "Coming from Tampa, from that environment to that environment was so different I didn't really understand what I was getting myself into. I think that was the big thing. There was just such a big difference from what I was used to.

"I definitely wouldn't have went to the highest bidder. If I could have done it over again I would have gone into more detail into everything. I didn't do any research about nothing. I didn't know much about Boston, only when I played there. If I went into a little more depth as to what I was getting myself into things probably would have been a little different."

He added, "Once I realized it and I had seven years I didn't know what to do. It was just one of those things I had to sit out and wait. I was dealing with the struggling at the time and a bunch of other stuff. I had been in Tampa so we had been shielded from a lot of media stuff. I didn't have to go through that stuff. That was new for me, dealing with the media and stuff like that. I didn't how to handle all that stuff up there and it showed in my game. Then I started getting hurt all the time. It was just always bad, bad all the time.

---

"I would like to think I know when it's time to make big decisions in your life you know to do a little more research," Crawford explained. "Look into a little bit more. I decided to sign with the Red Sox in five minutes. I didn't have no time to think about it. They told me this, bam, 10 minutes later I was signing with the Red Sox. It was one of those things I didn't look into it as much as I should have. I didn't call other players and ask around. I didn't do nothing. I just had my eye on one thing at the time."

---

"It's to each his own," Crawford said. "I think it's easier for guys who are homegrown. When you're homegrown, it's good. But when you come in from the outside and you don't produce as soon as you get there, that's when you have problems. Adrian [Gonzalez] hit 27 home runs his first year and they were wondering why he wasn't hitting home runs. If they weren't happy with Adrian hitting 27 home runs I knew I was never going to be liked. I knew I was in a bunch of trouble. I just knew I was never going to be able to please the people up there. Once you have that in your head, it's hard to cope with the day to day stuff.

"That just wasn't the place for me. My injuries didn't help, and of course I didn't play well. I know up there I didn't play well and I took their money. ... Nobody wants to perform bad, or play bad, it just didn't work out and it wasn't the place for me."

---

"They say everything is different. But you can have a good team, but you can't escape all that other stuff up there," he said. "I don't want to get into all that other stuff. It's good they won a World Series, but I'm pretty sure nothing has really changed."

---

"I just think it was a place I wasn't used to," he said. "It was just different. I really can't say it was one thing. It was everything. It was different from what I was used to, and I could never get comfortable up there."
Man. I understand being honest and speaking one's mind. As a member of the media, I definitely enjoy talking to players who will fill up the notebook, too (love you, Adam Jones!), but I don't see how Crawford is doing himself any good with all of this. I think the Anchorman -- "take it easy, Champ. Why don't you stop talking for a while" -- advice applies moving forward with regard to Crawford and talking about Boston.
Wink of the CBS Eye: Baseball Think Factory
Kinsler will slot in at second base for the Angels

The Marlins got a better return for Ozuna than Stanton or Gordon

The two teams are going about things in very different ways
The Marlins are indeed in teardown mode under new ownership

The Marlins still have more attractive pieces

The A's need outfield help, and the Cardinals have a glut