Reminder: Javier Baez is not Tony Gwynn
Cubs rookie masher Javier Baez has his merits, but making consistent contact isn't one of them.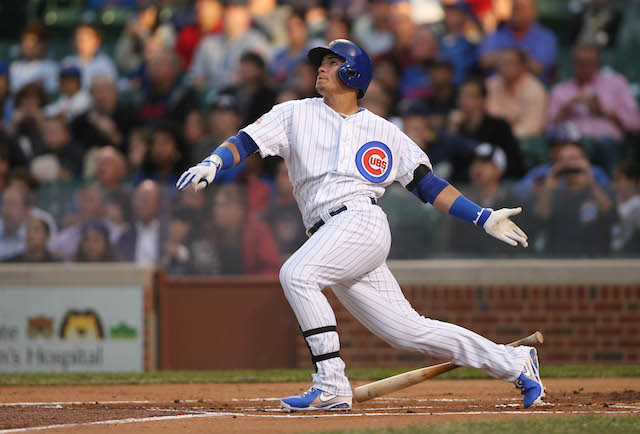 Look, when it comes to the great Tony Gwynn, we all suffer by comparison in one sense or another. So it is with Cubs rookie slugger Javier Baez.
After Monday night's "0-for-4 with 4 Ks" output against the Reds (CHC 3, CIN 0), Baez has now struck out 40 times in 90 plate appearances. 
Those grim numbers prompted some comparisons on media sociale to the preeminent contact hitter of the contemporary era ... 
#Cubs Javier Baez has seven career three-strikeout games; #Padres Tony Gwynn had one career three-strikeout game.

— Ace of MLB Stats (@AceballStats) August 27, 2014
And ... 
Javier Baez just tied Tony Gwynn's career-high for strikeouts

— Sam Miller (@SamMillerBP) August 27, 2014
Let is be said that these observations aren't particularly fair to Baez, a 21-year-old power hitter who's playing in a high-strikeout era and who's still toe-deep in his big-league career. Baez has the bat speed and raw power to be a frontline producer at the highest level, but his "swing for the downs" approach and somewhat long-ish stroke mean he has holes. Thus far, pitchers have found those holes in way that calls to mind, say, Tony Gwynn batting with a chopstick and under orders to swing at every pitch. 
Javier Baez is slugging .465 and has seven homers in his first 21 games, but Javier Baez is not Tony Gwynn, you see. 
Another team rumored to be interested in Stanton has confirmed their interest

Chris Woodward has spent the last two seasons with the Dodgers

We heard about it being awful for years, but was it?
Then again, three trades in four days might be behind Jerry Dipoto's usual pace

Ohtani is arguably the best hitter and pitcher in Japan

The O's need rotation help, and Cobb is available for hire