Renteria a hot name in two places; Lovullo also in Cubs mix
Padres bench coach Rick Renteria has a chance for two managerial jobs, with the Cubs and also the Mariners.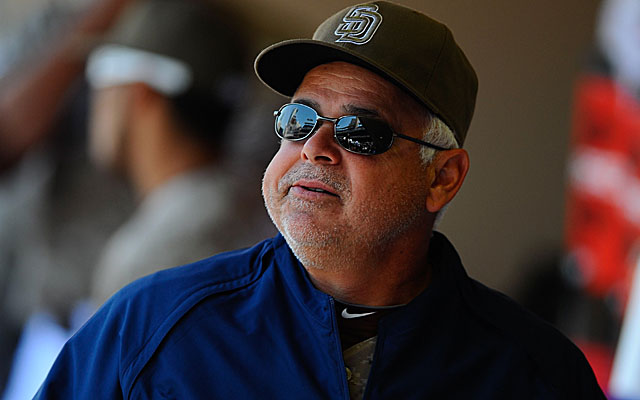 ST. LOUIS -- Rick Renteria, baseball lifer and current bench coach of the Padres, is a hot name this fall.
Renteria is in the mix for the Cubs and Mariners managerial jobs, which greatly enhances the stature of a mostly under-the-radar coach. His biggest previous exposure probably came as manager of Team Mexico in the WBC.
Renteria is refreshing as a coveted new name, as a 51-year-old who's spent most of his life in the game.
The Cubs may be his best shot, as their list appears to be only a half-dozen names, also including Padres executive A.J. Hinch, former Indians and Nats manager Manny Acta, Rays bench coach Dave Martinez, Red Sox bench coach Torey Lovullo and former Indians and Mariners manager Eric Wedge.
Lovullo, like Renteria a bench coach and former major-league infielder, also has some ties to Cubs people. Lovullo was the manager at Triple-A Pawtucket when Cubs president Theo Epstein was Boston's GM. Renteria was a Padres coach when Cubs GM Jed Hoyer was their GM.
Lovullo will have to wait until the end of the World Series before interviewing with the Cubs. Cubs people have taken great pains not to do anything to disrupt the Red Sox's postseason run. Lovullo said the other day he hasn't even heard from the Cubs, but he is thought to be under coonsideration.
Rentera is receiving strong recommendations from Padres manager Bud Black and other baseball executives, including his former boss Kevin Towers, now the Diamondbacks' GM. The Cubs seek someone to connect with their young players, especially the ones who regressed last year, including Starlin Castro and Anthony Rizzo. Rentera knows Rizzo from his Padres days.
Hinch also seems to be a good fit for the Cubs, as someone with strong player development experience and major-league managing experience.
He'd be a good fit in the Bronx, but can they make it work and still stay under the luxury...

The slugger had shoulder surgery in November

Tebow reported to spring training with Mets position players on Sunday
Santa Clara senior Jake Brodt did the honors Saturday

Eric Hosmer's eight-year contract with San Diego has wide-ranging ramifications

Keep tabs on the top 50 free agents right here