Report: $3.6 million seized from Starlin Castro due to legal dispute
Cubs shortstop Starlin Castro had $3.6 million seized from his bank accounts due to a legal matter, reports the Chicago Tribune.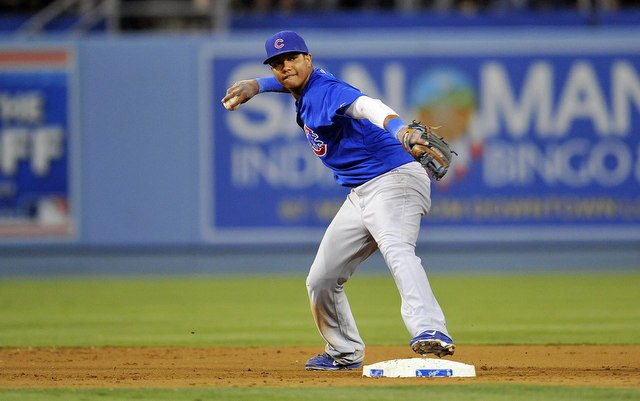 According to Paul Sullivan of the Chicago Tribune, Cubs shortstop Starlin Castro had a total of $3.6 million seized from his various bank accounts after reneging on an agreement made with a baseball academy in the Dominican Republic. He agreed to pay the school 3 percent of his future earnings several years ago.
Here are some more details from Sullivan:
Castro's father, Diogenis Castros, reportedly signed the agreement with the school Mi Futuro Biliguer (My Future Big Leaguer) when Starlin was 15, agreeing to pay the school during his active career in the majors.

...

Castro signed a seven-year, $60 million contract extension with the Cubs in 2012. He paid part of his original $45,000 signing bonus to the school, a source said, but did not expect the payments to continue throughout his career.
 
Castro's coach at the school, Manuel Nunez, was planning to sue Castro for "breach of trust and securities distraction," according to a report, trying to force Castro to give him 3 percent of his contract.
Sullivan says Castro's attorney will file a countersuit claiming Diogenis could not sign away his son's future earnings.
According to Baseball Reference, the 23-year-old Castro has banked a touch more than $6 million in his big league career to date. That's before taxes, so having $3.6 million seized comes close to cleaning him out.
Castro has run into legal trouble before, most notably being investigated by Chicago police after allegedly sexually assaulting a woman in 2012. He was eventually cleared of all wrongdoing. Obviously that was a more serious situation than the current dispute with Mi Futuro Biliguer.
In 161 games this season, Castro hit a career-worst .245/.284/.347 (72 OPS+) with 10 home runs.
The Nats will host the All-Star Game in 2018

The Orioles are looking to trade Machado heading into his walk year

The Cardinals have been linked for a while to the Baltimore star
Gallardo spent the first eight years of his career in Milwaukee

MLB revenues are at a record high right now, but teams aren't spending it on players

Chicago added Tyler Chatwood earlier this offseason but might not be done adding to the ro...