Report: '99 percent' chance Cubs trade Jeff Samardzija this offseason
Cubs starting pitcher Jeff Samardzija has been a hot name on the rumor mill this offseason and it's increasingly sounding more likely he gets dealt.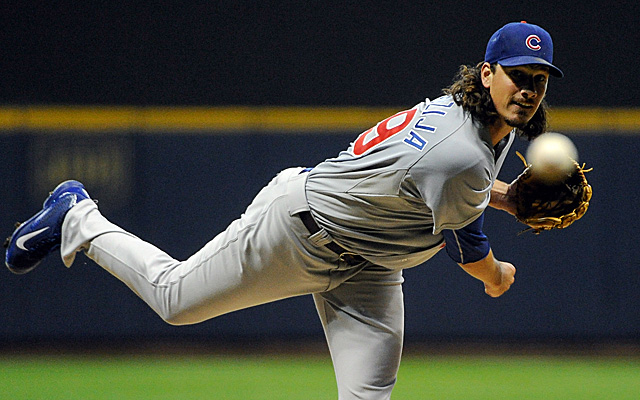 Cubs starting pitcher Jeff Samardzija has been thrown around in trade rumors for quite a while, going back to last July -- at which point the Cubs decided to keep him and try to work out a contract extension.
It would appear those talks aren't going well, because the trade rumors involving Samardzija have continued to pick up steam throughout the offseason, the height of which is a report Wednesday afternoon that there's a "99 percent" chance the Cubs trade Samardzija before opening day (via David Kaplan of Comcast Chicago).
Thus far in rumors, the Diamondbacks, Orioles and Blue Jays have been the three most prominent teams in Samardzija talks, but the Cubs will certainly explore all avenues in hopes of getting a big package of prospects back.
It would appear, however, the Cubs will have at least one suitor willing to meet their reportedly high asking price. Here's what Ken Rosenthal of Fox Sports had to say on the matter:
The D-Backs, sources say, know what it would take to land Samardzija, a pitcher they have targeted since last summer. Their fear is that if they jump too soon, they may miss out on an even better opportunity.
Putting two and two together, that seems to say the D-Backs are willing to give what the Cubs are asking eventually, if it comes to that.
The Blue Jays have also been reportedly putting together packages of young players to offer the Cubs and general manager Alex Anthopoulos has only denied that he's made a specific offer. Here's the non-denial "denial," via MLB.com:
"I'm going to try to be a little more candid than I may have been in the past," Anthopoulos said. "I won't comment on specific rumors and things like that, but I will say that we're definitely exploring starters with teams. But also, just like a lot of stuff that's out there that is false, we have not made an offer to anybody with respect to a starter.

"So, if there is something out there that we've actually made an offer to someone for a starter, that is not accurate. It doesn't mean we're not inquiring."
So ... yeah, they're going to be in on the bidding.
Samardzija has only been a full-time starter for two seasons, during which time he's gone 17-26 with a 4.10 ERA (97 ERA+) and 1.29 WHIP. He's struck out more than a batter per inning (9.1 K/9) and worked 213 2/3 innings this past season.
There's good upside with Samardzija, as he's shown flashes of frontline potential over the course of the past two seasons only to be derailed by inconsistency. The high strikeout rate bodes well and the Cubs defense hasn't done him any favors. So he could round into shape as a very good starter.
The problem for the rebuilding Cubs is that this isn't a run-of-the-mill second-year starter. He's going to turn 29 before next season and will be a free agent after 2015. If the two sides can't work out an extension now and the Cubs can get a substantial prospect haul from another club that treats him like an ace or No. 2 starter, it seems pretty reasonable to move him.
Neither Josh Donaldson nor Brian Dozier have talked about a new contract extension

Francisco leads the Dominican Winter League with seven home runs

Thome deserves enshrinement and here's why the case against him does not hold up
The Twins have already fortified the bullpen with Addison Reed, and now they want to address...

The Orioles likely want pitching, and the Indians have plenty of it

Halladay died in a November plane crash off the coast of Florida