Report: A-Rod, Melky, Cruz among star players treated at PED clinic
Alex Rodriguez, Nelson Cruz and Gio Gonzalez are among the players listed in a new report detailing South Florida PED connections.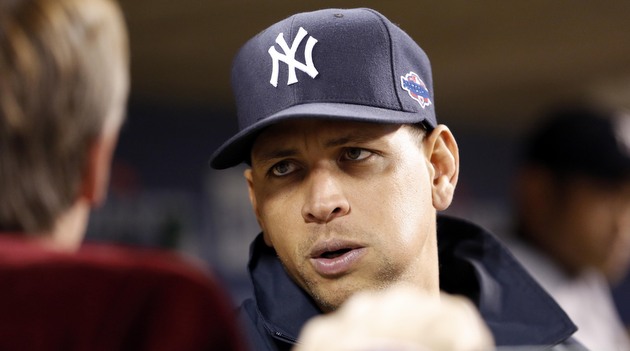 A report by the Miami New Times links Alex Rodriguez and other baseball stars to a PED clinic. (US Presswire)
UPDATE: Anthony Bosch's lawyer has responded, via the Associated Press:
Bosch's lawyer, Susy Ribero-Ayala, said in a statement the New Times report "is filled with inaccuracies, innuendo and misstatements of fact."

"Mr. Bosch vehemently denies the assertions that MLB players such as Alex Rodriguez and Gio Gonzalez were treated by or associated with him," she said.
---
Alex Rodriguez, Gio Gonzalez, Nelson Cruz and Melky Cabrera are among the baseball stars treated at a South Florida clinic where, according to a report in Tuesday's Miami New Times, they received performance-enhancing drugs.
Related: MLB statement | Rangers statement | A-Rod and Gonzalez deny allegations
Records taken from Biogenesis, an anti-aging clinic near the University of Miami, reportedly show those players and many other athletes -- all of whom have connections to South Florida -- received various substances from Anthony Bosch, the head of the clinic, who is already under investigation by MLB and DEA.
Bosch, 49, was previously linked to the banned PEDs implicated in Manny Ramirez's 2009 suspension. Bosch disappeared suddenly last month and the clinic was closed, according to Tim Elfrink, the Miami New Times reporter who spent three months on the story.
Elfrink notes in the New Times report he was given patient records by a former clinic employee, and followed up with extensive interviews with other former employees and clinic customers.
Here's a snippet of Elfrink's findings regarding the Yankees' superstar third baseman:
There, at number seven on the list, is Alex Rodriguez. He paid $3,500, Bosch notes. Below that, he writes, "1.5/1.5 HGH (sports perf.) creams test., glut., MIC, supplement, sports perf. Diet." HGH, of course, is banned in baseball, as are testosterone creams.

That's not the only damning evidence against A-Rod, though. Another document from the files, a loose sheet with a header from the 19th Annual World Congress on Anti-Aging and Aesthetic Medicine, lays out a full regimen under the name Cacique: "Test. cream... troches prior to workout... and GHRP... IGF-1... pink cream."

[snip]

The mentions of Rodriguez begin in 2009 and continue all the way through last season. Take a page in another notebook, which is labeled "2012" and looks to have been written last spring. Under the heading "A-Rod/Cacique," Bosch writes, "He is paid through April 30th. He will owe May 1 $4,000... I need to see him between April 13-19, deliver troches, pink cream, and... May meds. Has three weeks of Sub-Q (as of April)."
A "troche" is an oral lozenge that is placed between the patient's cheek and gums. The lozenge takes about 30 minutes to dissolve and can be used to deliver a variety of drugs, including those used in hormone and testosterone therepy.
The New Times story reports more of the same about several other players, including Bartolo Colon, the Oakland A's pitcher who was suspended 50 games in 2012 after testing positive for banned substances.
Cabrera and Yasmani Grandal, also implicated in the New Times report, have also already been disciplined under baseball's joint drug agreement.
A-Rod figures to garner the most attention after telling MLB in 2009 his PED use was limited to his 2001-03 stint with the Rangers.
Nelson Cruz, the Rangers slugger who was named MVP of the 2011 ALCS, has not previously been linked to PED use. The Rangers front office released a statement Tuesday in response to his name being among the many in Elfrink's story, saying they were contacted last week by the New Times for comment.
"At that time, the Rangers contacted Major League Baseball on that inquiry," the Rangers' statement said. "The team has no further comment."
Major League Baseball released a statement Tuesday, saying, "Through our Department of Investigations, we have been actively involved in the issues in South Florida." MLB said it continues its investigation and is "gathering and reviewing information."
However, though MLB had looked into clinics similar to Bosch's as well as other suspected PED peddlers in the Miami area, much of the information found in the New Times investigation was new to baseball's front office, according to a Yahoo report.
MLB and the players union just weeks ago announced a series of changes to their joint drug agreement meant to strengthen their anti-PED policies. Among the changes are random in-season blood testing for HGH starting this season and new protocols for testing for heightened testosterone.
CBSSports.com Baseball Insider Danny Knobler notes that under the joint drug agreement, players can be suspended for possession of performance-enhancing drugs, so a positive test is not necessary. 
For more baseball news, rumors and analysis, follow @EyeOnBaseball on Twitter, subscribe to the RSS feed and "like" us on Facebook. Also, individually interact with us on Twitter: @MattSnyder27, @daynperry and @mikeaxisa.

There's now a crowded outfield in San Diego

The former Braves star served as a race official for the Daytona 500

He'd be a good fit in the Bronx, but can they make it work and still stay under the luxury...
The slugger had shoulder surgery in November

Tebow reported to spring training with Mets position players on Sunday

Santa Clara senior Jake Brodt did the honors Saturday