Report: A-Rod preparing malpractice suit against Yankees' team doctor
Alex Rodriguez is preparing a malpractice suit against the Yankees' team doctor over his recent hip injury, according to an ESPN NY report.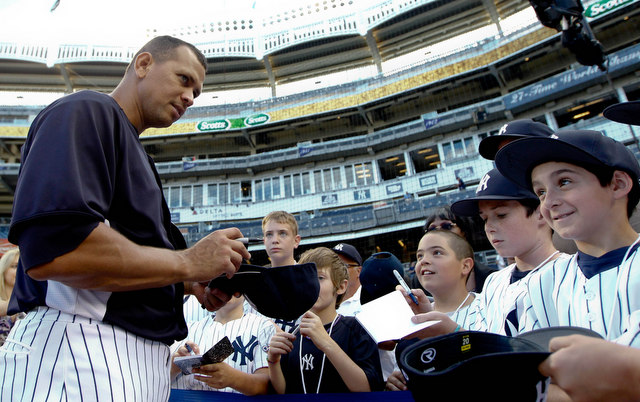 More MLB: Scoreboard | Standings | Probable Pitchers | Sortable Stats | Odds
Yankees third baseman Alex Rodriguez and his legal team are preparing a malpractice suit against team doctor Chris Ahmad, reports Andrew Marchand of ESPN New York. They are still putting together their case and nothing has been filed as of yet.
Rodriguez's camp believes they have evidence showing his hip injury was misdiagnosed last fall. His right hip, which was surgically repaired in 2009, was examined after he complained about discomfort. A-Rod was eventually diagnosed with a labrum tear, a cyst and an impingement in his left hip later in the offseason. He had surgery in January and missed the first four months of the season.
According to records provided by A-Rod's team to ESPN New York, the radiologist working with Ahmad on Rodriguez's MRI on Oct. 11 reported: "Stable postoperative appearance of the right hip with no evidence of labral re-tear, stable degenerative change, and only minimal gluteus medius insertional tendinosis. Partial evaluation of left hip revealing superior labral tear with small parabal cyst."
That record is a description of the radiologist report and does not include any interpretation or clinical documentation from Ahmad. The notes were sent to Dr. Marc Philippon, who performed A-Rod's original right hip surgery. Philippon performed another MRI in late October that showed the damage to Rodriguez's left hip.
The Yankees released this statement in response to a potential malpractice suit:
"We relied upon Dr. Christopher Ahmad and the New York-Presbyterian Hospital for medical diagnosis, opinions and treatment. The Yankees neither had any complaints from Alex Rodriguez pertaining to his left hip during the 2012 regular season and the Yankees postseason, nor did the Yankees receive any diagnosis pertaining to his left hip during that same period of time. Given the various allegations that have been made by Alex Rodriguez and his counsel, if you have any medical questions they should be directed to the New York-Presbyterian Hospital and Dr. Christopher Ahmad."
Rodriguez has recently started the process of filing a medical grievance against the Yankees. His lawyer, Joseph Tacopina, accused the team of hiding the MRI results and continuing to play A-Rod as a way of embarrassing him. "They rolled him out there like an invalid and made him look like he was finished as a ballplayer," said the attorney to the New York Times.
The Yankees have dealt with an inordinate number of injuries and setbacks these last two years, something A-Rod and his camp will likely use as supporting evidence in their grievance and malpractice suit. Derek Jeter has been on the DL three times with leg injuries and both Mark Teixeira (wrist) and Kevin Youkilis (back) suffered setbacks that required season-ending surgery earlier this year, for example.
Rodriguez, 38, was suspended a record 211 games for his ties to the South Florida performance-enhancing drug hub Biogenesis earlier this month. He has appealed the ban and since returned to the field. The PED charges and a malpractice suit regarding his hip would appear to be two separate issues, but both fall under the medical care umbrella.
Otani's rare ability to hit and pitch will need to be accounted for in realms beyond real...

Kenny White has won 8 of his last 10 MLB Over-Under picks and has a strong play for Game 1

OOTP's team ran some simulations for us on the 2017 World Series
Reddick spent half the 2016 season in L.A. and did not enjoy it

Martinez has spent most of the past decade as Joe Maddon's bench coach, but should be ready...

The Dodgers have acquired more players through trades than by any other means