Report: A-Rod says he was duped into PED use; camp refutes report
During his appeal hearing, Alex Rodriguez's defense team reportedly tells the panel their client was duped into taking PEDs; his camp denies the report.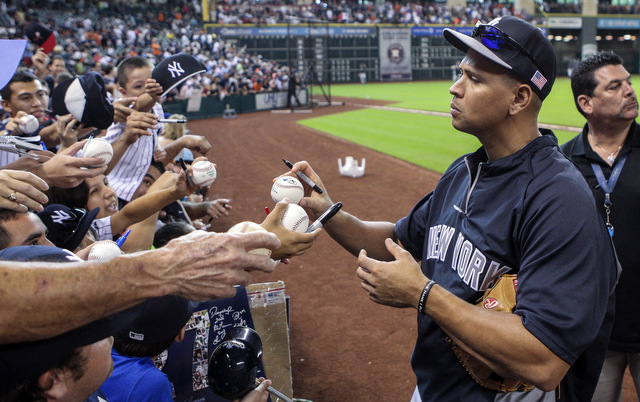 More MLB: Scoreboard | Standings | Probable Pitchers | Sortable Stats | Odds
If Alex Rodriguez used performance-enhancing drugs provided by Biogenesis, he didn't know about it. That's what the Yankees third baseman and his defense team told the three-person arbitration panel during his appeal hearing in New York this week, reports the New York Daily News, a report A-Rod's camp denies.
The appeal of Rodriguez's record 211-game suspension started on Monday and will last several sessions. Here is more from the Daily News:
That narrative conflicts with the version told by Anthony Bosch, the founder and proprietor of the now-shuttered facility, who spent part of Monday and almost all of Tuesday testifying before the three-person panel that will decide on the appropriateness of the 211-game doping ban Major League Baseball commissioner Bud Selig imposed upon Rodriguez in August.

Bosch, who is cooperating with MLB, has spent much of that time validating a vast trove of Biogenesis documents as well as his own electronic communications with Rodriguez. The league believes the evidence reflects a deep dealer-source relationship. If the Biogenesis products were legitimate, MLB argues, why were they so expensive and why were the transactions so secretive?

Attorneys for Rodriguez will likely begin their cross-examination of Bosch on Wednesday, attacking his credibility during the closed-door hearing as they have for several months now — pointing out that MLB's investigators paid Bosch for his evidence and offered to drop him from a lawsuit if he cooperated with their probe. They may also point out that Bosch is the subject of federal and state criminal investigations in Florida, and that he was fined $5,000 by the Florida Department of Health for holding himself out as a doctor.
A-Rod would not be the first athlete to use the "I didn't knowingly take PEDs" defense. Both Barry Bonds and Roger Clemens claimed to unknowingly use banned substances while under investigation in recent years. The strategy rarely works in a courtroom setting but has had more success in closed drug programs.
Rodriguez's camp issued a statement addressing the Daily News report:
"We cannot provide any details of this hearing as the Chair of the Arbitration Panel has issued order prohibiting all parties from commenting publicly on the confidential proceedings, but what is being reported is NOT true."
MLB suspended A-Rod using a "non-analytical positive," meaning he did not fail a test during the time he is alledged to have been connected to Bosch. Rodriguez was one of 103 players to test positive during what was supposed to be a confidential screening in 2003 as the league prepared to implement a drug program. In 2009, he admitted to using banned substances with the Rangers from 2001-03.
The three-person panel includes one arbitrator appointed by MLB, another appointed by the players' union, and a third independent party. For all intents and purposes, the appeal comes down to independent arbitrator Frederic Horowitz. He can uphold, overturn or reduce the suspension.
A total of 13 players were suspended for the ties to Biogenesis in August. All except A-Rod received the standard 50-game ban for first time offenders and accepted the suspension. Rodriguez received 211 games for alledgedly interfering with MLB's investigation.
The Daily News says the appeal will have to continue at a later date due to scheduling conflicts if it is not completed this week. A ruling is not expected until November or possibly December.
The Grapefruit League and Cactus League seasons started on Friday

Data will be collected and then used to determine whether humidors are necessary in 2019

Spring training play began on Friday, and the Stoneman Douglas tragedy was on the mind of MLB...
Baseball players forced to take pictures usually lead to fun for all of us

One of the most celebrated programs in baseball is looking to continue its run

A closer look at the teams in the Cactus League and Grapefruit League