Report: A's claim Yunel Escobar from Rays on revocable waivers
The A's have claimed Yunel Escobar off revocable waivers, per a report. The Rays can now pull him back, trade him or let him go.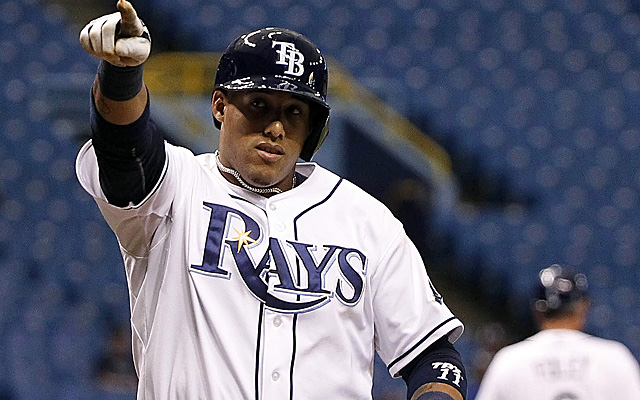 Tampa Bay Rays shortstop Yunel Escobar has been claimed on revocable waivers by the Oakland Athletics, reports Ken Rosenthal of Fox Sports. Rosenthal further notes that the deadline to work out a possible trade is 1 p.m. ET on Tuesday.
Revocable waivers are how teams can still make trades during August. A player can be placed on them at any time. Opposing teams all have a chance to place a claim, going in the order of worst-to-best record in the player's league and then worst-to-best in the opposing league.
Once a player is claimed, his current team has 48 hours to work out a trade, let him go without getting anything back -- aside from salary relief -- or pull him back.
Escobar, 31, entered Sunday hitting .250/.315/.316 with four homers and 31 RBI. He has a two-year, $13 million deal with a club option for 2017 that begins next season.
With Jed Lowrie and Nick Punto injured, the A's could use the middle infield depth behind Eric Sogard, Alberto Callaspo and Andy Parrino.
Marcell Ozuna figures to be the next Marlins star on the move

Several relievers have signed in the last two days

Several teams are interested in the switch-hitting first baseman
Neshek and the Phillies are closing on a two-year contract

And the team that first drafted Cole is interested

This scout was SUPER into Jeter