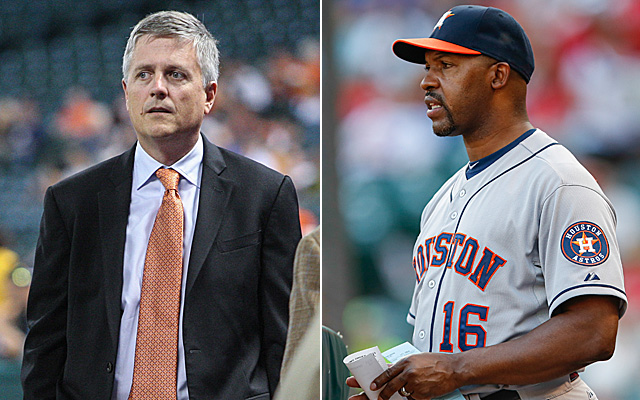 Astros general manager Jeff Luhnow and manager Bo Porter have some issues to work through, reports Ken Rosenthal of Fox Sports. Per Rosenthal, Porter went to owner Jim Crane earlier this month to discuss "his frustration" with Luhnow, specifically a lack of communication and "second-guessing his in-game management" skills.
Also, remember that story about a few players being angry with the treatment last year's No. 1 overall pick Mark Appel receives? There's this, from Rosenthal:
An unannounced visit by Appel to Houston prior to his promotion contributed to the friction between Luhnow and Porter, sources said; Luhnow initially did not make Porter aware that Appel would throw a bullpen session for pitching coach Brent Strom. Porter then had to explain the situation to his players, a number of whom were seething, believing that Appel did not warrant his promotion and was receiving special treatment.
That's just an example of the communication problems between Luhnow and Porter.
The Astros are 57-78 after losing at least 106 games in each of the last three seasons. That's definitely progress, but it's still just a pace of 68-94. Only being in the same division as the Rangers will likely keep them out of last place for the fourth straight season.
With this disfunction and the continued losing, will owner Jim Crane make a change? Will Luhnow just fire Porter? Or will everyone stay the course, since the future does appear brighter in Houston? We'll find out this offseason, but for now things don't sound great in the management hierarchy.