Report: Balfour's deal with O's in jeopardy due to issue with physical
All-Star closer Grant Balfour agreed to sign with the Orioles this week, but the deal isn't yet finalized as there's reportedly a problem with his physical.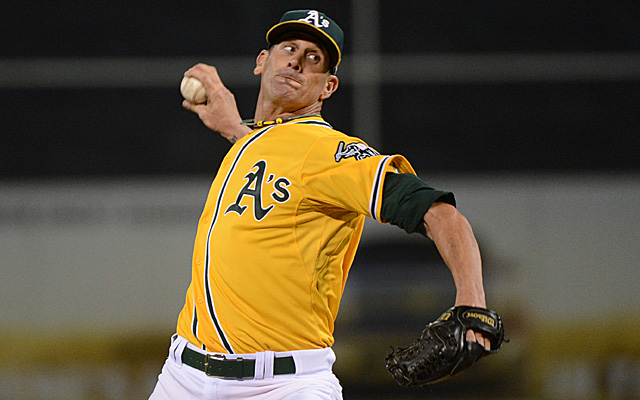 MORE: FA tracker: position players | FA tracker: pitchers
Earlier this week, news broke that the Orioles and All-Star closer Grant Balfour had agreed on a two-year, $15 million deal. Now, it appears that deal may not come to fruition.
Due to something seen in Balfour's physical -- the final step before announcing a transaction as official -- the deal may not get done, according to Roch Kubatko of MASN.com.
Balfour agreed Tuesday to a two-year, $15 million contract that included $500,000 deferred over each of the next two seasons, and the Orioles were expected to introduce him Friday morning at a press conference at Camden Yards. However, there's been an undisclosed glitch related to his physical and the deal is in serious jeopardy.

The results of the physical have come back to the Orioles. The failure to announce his signing isn't due to any sort of delay.

A source said there are some issues that "need to be resolved." Executive vice president Dan Duquette couldn't be reached for comment, but he's expected to address them on Friday.
So it actually sounds like this deal might fall apart. Take note that when we first report on a signing, we use the wording "have agreed to sign" instead of saying "the Orioles signed Grant Balfour," because sometimes the physical presents a problem. One might recall last offseason that the Red Sox reportedly agreed to sign Mike Napoli to a three-year, $39 million deal. And then weeks and weeks passed without the deal being announced as official, reportedly due to Napoli's hip condition. He eventually signed a one-year, $5 million deal with Boston.
As for Balfour, it's hard telling what the problem might be. He hasn't been on the disabled list since 2011. He did have surgery to clean up the meniscus in his right knee last spring, but he just went through the 2013 season healthy and very productive.
UPDATE: Here's some new info:
Acrdng to sources, issue w Balfour concerns right shoulder. Had surgery for rotator cuff/labrum tear in Sept 2005. No shoulder probs since

— Dan Connolly (@danconnollysun) December 20, 2013
Balfour, 35, took over as A's closer in 2012 and has converted 62 of his 67 save chances since then. He was 38-of-41 last year with a 2.59 ERA, 1.20 WHIP and 72 strikeouts in 62 2/3 innings.
As for the Doctor who performed the physical on Balfour, this may be in his future: