Report: Blue Jays are a 'leading candidate' to sign Jimenez, Santana
According to a Fox Sports report, the Blue Jays are considered a "leading candidate" to sign either Ubaldo Jimenez or Ervin Santana to bolster their rotation.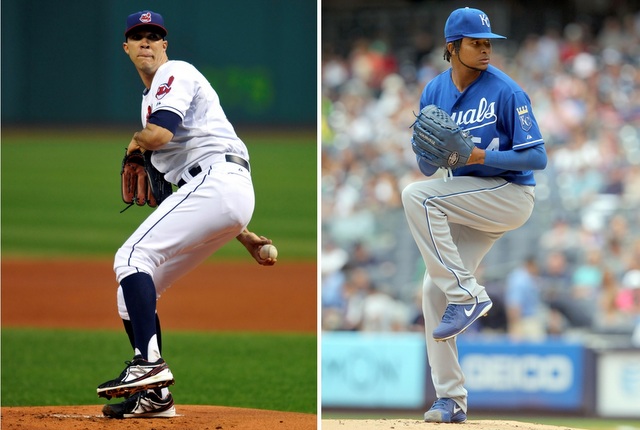 MORE: FA tracker: position players | FA tracker: pitchers
It has been a pretty quiet offseason for the Blue Jays so far, but the team is considered a "leading candidate" to sign Ubaldo Jimenez or Ervin Santana, reports Ken Rosenthal of Fox Sports. The Cubs' Jeff Samardzija remains on their radar as well. Toronto figures to acquire one and possibly two starting pitchers before the end of the winter.
The market for Jimenez, Santana and pretty much every notable starting pitcher has been on hold thanks to the Masahiro Tanaka situation. Teams wanted to see if he would be made available before pouncing on one of the other free agent starters, and they'll probably wait until after Tanaka signs -- the deadline is 5pm ET on Jan. 24 -- before moving on to the alternatives.
Jimenez and Santana both rejected qualifying offers, so teams will have to forfeit a draft pick to sign them. That is a small deterrent for the Blue Jays because they have two protected first round picks -- their natural first rounder (which is ninth overall and protected from free agent compensation) and a compensation pick for failing to sign last year's first rounder (11th overall, also protected). They would only have to surrender their second rounder to sign one of those guys.
According to the park factors at FanGraphs, Rogers Centre has been one of the most homer happy ballparks in baseball the last few years. Jimenez has been better at preventing the long ball than Santana these last three seasons (0.95 vs. 1.33 HR/9) despite having a lower ground ball rate (43.1 vs. 44.3 percent). There is more to life than homer and ground ball rates, however. Both guys have their strengths and weaknesses.
The Blue Jays are slated to have Mark Buehrle, R.A. Dickey and Brandon Morrow in the rotation this coming season after losing Josh Johnson to free agency. J.A. Happ and Todd Redmond are candidates to fill the other two spots, but at this point Ricky Romero isn't much of a consideration. He's been a disaster these last two years.