Report: Blue Jays to call up top pitching prospect Aaron Sanchez
The Blue Jays are calling on their top pitching prospect, Aaron Sanchez, per a report.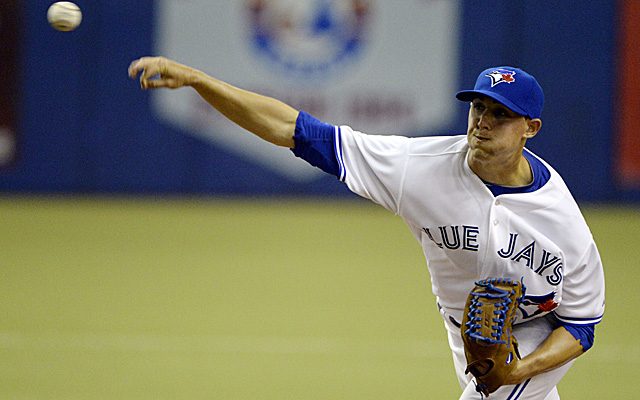 More Jays: Showing interest in Alex Rios

The Blue Jays are going to call up their top pitching prospect, right-hander Aaron Sanchez, Tuesday, reports Shi Davidi of Sportsnet.
Sanchez, 22, was ranked as the 32nd best prospect in all of baseball by Baseball America back in the spring (23 by MLB.com and 31 by Baseball Prospectus). BP actually considered Marcus Stroman a better prospect, but he's been up for a while now, so Sanchez is the consensus top Blue Jays pitching prospect remaining.
In 14 Double-A starts this season, Sanchez was 3-4 with a 3.82 ERA, 1.39 WHIP and 57 strikeouts in 66 innings. The 40 walks were pretty troublesome. He's since been promoted to Triple-A Buffalo, where he's 0-3 with a 4.19 ERA and 1.54 WHIP in 34 1/3 innings. Again, the walks were a problem, as he offered 17.
Sanchez was moved to the bullpen prior to his last two outings, where he struggled once and had a good outing in his last time out. With the Jays, he'll serve out of the 'pen, too, so we can't be sure when he'll be making his MLB debut.
Given Sanchez's issues with control and his only having two relief appearances under his belt prior to a promotion, I don't think it's a stretch to say Toronto is getting pretty desperate for some pitching help.
Dioner Navarro still hopes to return someday

Christian Yelich's agent says his client's relationship with Marlins is 'irretrievably bro...

The free-agent market has been slow and one player is bracing for an even longer wait
The Mets didn't want to trade a young outfielder for an older one

Josh Harrison doesn't sound pleased Gerrit Cole and Andrew McCutchen have been traded away

The team's media contracts expire following the 2019 season