Report: Carlos Beltran has three-year, $48M offer
According to a report, free agent outfielder Carlos Beltran has received a three-year, $48 million offer. There's speculation the Mariners might be the offering team, too.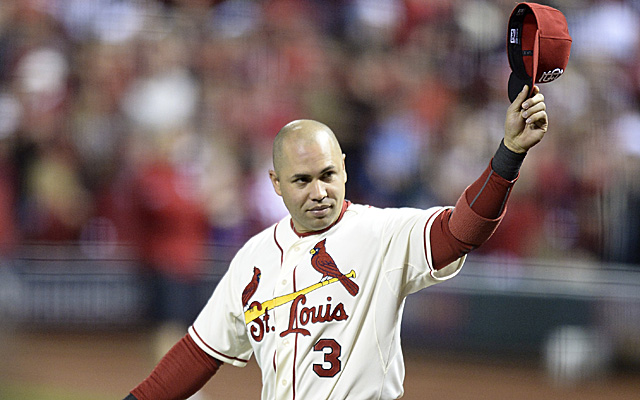 Rumor: Mariners become 'major player' for Robinson Cano?
Free agent outfielder Carlos Beltran has a three-year, $48 million offer "in hand," according to Buster Olney of ESPN.com. It's not known what team offered the substantial deal, but Olney speculates it could be the Mariners, as they are "being aggressive."
Beltran, 36, hit .296/.339/.491 with 30 doubles, 24 homers and 84 RBI in 600 plate appearances last season for the Cardinals. The eight-time All-Star is also one of the best postseason hitters in MLB history, posting a .333/.445/.683 line with 16 homers and 40 RBI in 51 playoff games.
Beltran turned down a one-year, $14.1 million qualifying offer to stay in St. Louis and appears to have several suitors willing to pay more.
As for the Mariners, they've been desperate to land offense for years and right now could plug Beltran into their two- three- or four- hole in the lineup as a corner outfielder or designated hitter. He'd immediately provide a boost with his bat for sure.
The Astros scored seven runs in Game 6 after scoring nine runs total in Games 1-5

The Astros are still alive, and Justin Verlander is the reason why

With a six-run lead in the ninth, the Astros used closer Ken Giles for 23 pitches
On Saturday night in Houston, it'll be CC Sabathia against Morton

The ALCS will go the distance after all with the Astros offense coming back to life in Game...

Verlander's stuff was insane during Game 6 of the ALCS