Report: Cubs calling up prospect Jorge Soler
The Cubs are calling up another highly-touted prospect. This time it's Jorge Soler.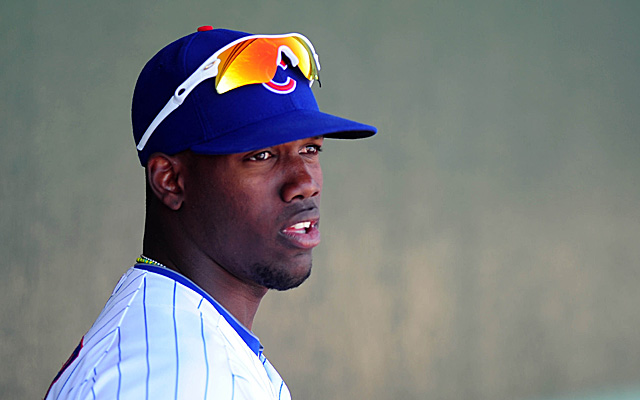 The Cubs are going to call up highly-touted prospect Jorge Soler before their series against Cincinnati begins Tuesday, reports David Kaplan of Comcast Chicago. Soler clubbed a three-run homer and then was pulled from the Iowa Cubs' game Monday night shortly thereafter mid-inning, seeming to signal the promotion.
Soler, 22, is hitting .340/.432/.700 with 23 doubles, 15 homers and 57 RBI in 62 minor-league games this season (eight in Rookie ball while he was rehabbing from injury, 22 in Double-A and 32 in Triple-A). He was ranked as the 41st best prospect in all of baseball heading into the season by Baseball America.
Expect Soler to play everyday, just as Javier Baez and Arismendy Alcantara are doing, in order to adjust to the majors this season while the Cubs aren't in contention. He'll play one of the corner outfield spots.
The Cubs signed Soler to a nine-year, $30 million deal in 2012 out of Cuba and he was already on the 40-man roster, so this move is hardly surprising. It's also worth mentioning that perhaps the Cubs' two best prospects -- Kris Bryant and Addison Russell -- are still in the minors. So the new wave isn't all up just yet.
As the Cubs begin to introduce their coveted line of prospects, the team as a whole has been playing well. They have gone 16-11 since July 27, trailing only the Nationals during that time among NL teams.
Here's Soler's prodigious home run from Sunday:
Keep tabs on the top 50 free agents right here

Your one-stop shop for all things MLB Winter Meetings-related

The Angels knew about the first-degree sprain and still wanted to sign the potential ace, of...
The run on relievers continues with two more signings

The Yankees added Giancarlo Stanton in a blockbuster trade, though they now have openings at...

Smyly is currently on the mend from Tommy John surgery