Report: Cubs intend to make Joe Girardi significant offer
The Cubs have interest in Yankees manager Joe Girardi and plan to make him a big contract offer ... as soon as they're allowed to.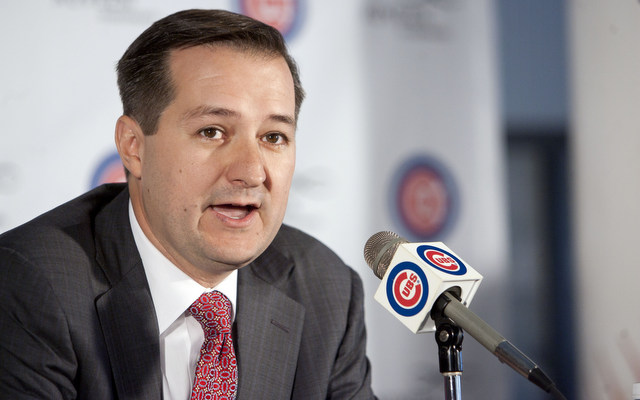 More: Cashman: We want to keep Girardi | Girardi: Would like to stay in NY
It has been widely speculated the Cubs will pursue Yankees manager (and soon-to-be free agent) Joe Girardi this winter, even before the club fired Dale Sveum. Girardi is from the Chicago area and has the big market chops the Cubbies seek in their next skipper.
Buster Olney of ESPN reports Cubs ownership is "making a strong internal argument" to hire Girardi, adding they plan to make him a significant contract offer if given the chance. Girardi's contract expires on Oct. 31 and the Yankees are hesitant to give him permission to negotiate with other clubs in the meantime.
"I think [Girardi] likes it here. We're going to give him a real good reason to stay," said Yankees GM Brian Cashman to reporters during his annual end-of-season press conference on Tuesday. "After tomorrow, I think I'll get a real good feel for where we're at."
Cashman met with Girardi face-to-face on Monday and is scheduled to meet with his agent on Wednesday. By allowing him to negotiate with the Cubs before his contract expires, the Yankees would only be giving Girardi leverage to use against them in contract talks. The team has made it very clear they want him back.
Girardi, 48, led the injury-riddled Yankees to an 85-77 record this season. They are 564-408 (.580) with three AL East crowns and one World Series title during his six years at the helm. He won the 2006 NL Manager of the Year award during his lone season with the Marlins.
Mike Scioscia of the Angels is the highest paid manager in the game with an average annual salary of $5 million. Girardi earned an average of $3 million per year under his current contract and the Yankees will probably have to offer top of the market dollars to keep him.
From 1 to 25, the L.A. Dodgers have the squad to overcome the pitfalls of October baseball

After Tuesday night's win over the Cubs, the Dodgers are now 6-0 in the 2017 playoffs

Los Angeles beat Chicago once more in Game 3 of the NLCS in Chicago
The 2017 World Series begins Oct. 24

The Astros will need Dallas Keuchel and Justin Verlander to take the pressure off in Games...

Judge and Sanchez played huge roles in the Game 4 comeback