Report: Dodgers-Diamondbacks suspensions coming Friday
Stemming from the brawl Tuesday, MLB will announce suspensions Friday, according to the 'LA Times.' It's not a question of if; it's a question of how many will be suspended.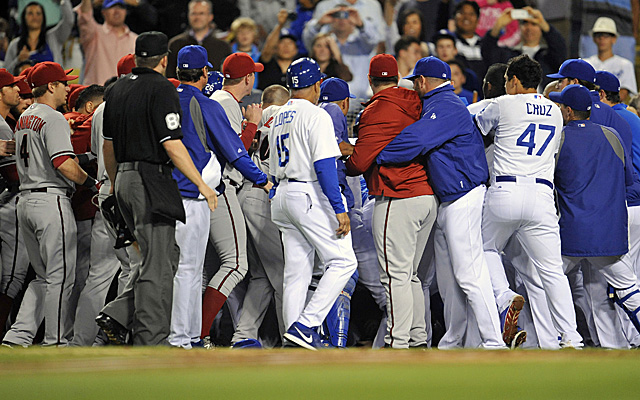 More MLB: Scoreboard | Standings | Probable Pitchers | Sortable Stats | Odds
In light of the two bench-clearing brawls between the Diamondbacks and Dodgers Tuesday night, we knew several suspensions were coming. Both Zack Greinke and Ian Kennedy pretty clearly hit batters with intent, not to mention the several punches that were thrown in the fracas.
We'll find out those suspensions Friday, reports the Los Angeles Times.
Earlier this week, Giants pitcher George Kontos was suspended for hitting Pirates center fielder Andrew McCutchen with a pitch. His suspension came the following day. So why is MLB taking three days before announcing these suspensions?
One thing the delay shows is that the league is watching the replays multiple times -- and very carefully studying every individual in the brawl -- in order to determine who exactly needs to be punished.
As far as who will get the suspensions, we can start at the top. The managers pretty much always get nailed when brawls break out. So expect Don Mattingly and Kirk Gibson to be punished.
Greinke will almost certainly get the usual suspension given to starting pitchers, which is to make sure he misses one turn in the rotation (probably an eight-gamer).
Given that he intentionally went at the head of Greinke, the best guess is Kennedy gets one that is longer, perhaps substantially longer.
Then there's the matter of what happened in the brawls. Yasiel Puig and Ronald Belisario of the Dodgers were ejected and could face discipline. Hitting coach Mark McGwire was getting after D-Backs coach Matt Williams pretty hard. As the LA Times noted, Dodgers pitchers Josh Beckett and Chris Capuano violated a rule by leaving the dugout while on the disabled list.
And given all the action that transpired, there may be more.
Puig has a healthy relationship with his club of choice and gave the quote of the night

The Dodgers are back in the World Series thanks to a smartly built roster, analytics and m...

Seager missed the NLCS with a back injury
The Cubs foundation is still strong, but Theo Epstein and company have work to do

Turner and Taylor are the third set of co-MVPs in LCS history

Stylistically, the Dodgers seem to match up better against the Yankees and here is why