Report: Dodgers listening on OFs; who has the most trade value?
The Dodgers are listening to offers for their veteran outfielders according to a Fox Sports report. Which of the three has the most trade value?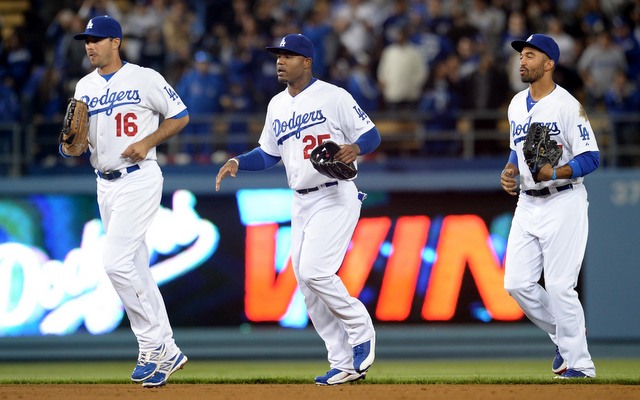 If there's one thing the Dodgers learned this past season, it's that there's no such thing as too much depth. They started the year with seven starters for five rotation spots but were scrambling to sign Edinson Volquez in August. Depth has a way of disappearing quickly.
Los Angeles also appeared to have outfield depth, especially once Yasiel Puig joined the team. So much so that they were reportedly shopping Andre Ethier in trades. And yet, despite all the outfielders, there was only one day all season (July 5) where Puig, Ethier, Matt Kemp and Carl Crawford were all healthy and available to start the same game. That blows my mind.
Now that all four guys have an offseason to get healthy and prepare for next season, the Dodgers are again looking to move one of their spare outfielders to fill an extra need. Ken Rosenthal of Fox Sports says the team is listening to offers for the three veterans (Crawford, Kemp, Ethier), telling prospective suitors: "If you're interested in one of them, make us an offer."
Due to performance, contract status and all sorts of other stuff, the three guys have varying levels of trade value. Let's take a gander:
CARL CRAWFORD
Contract status: $82.5 million through 2017
Trade value: Small
The 32-year-old Crawford quietly had a solid regular season (108 OPS+ and 1.7 WAR) while being limited to 117 games with hamstring and back problems. The injuries have started to mount in recent years and Crawford's trademark speed is slipping, dragging down his value. The contract is just icing on the trade value killing cake. Even if the Dodgers eat some of that $82.5 million, few teams would line up to take on that commitment.
MATT KEMP
Contract status: $128 million through 2019
Trade value: Moderate
Kemp, 29, managed only a 105 OPS+ and 0.5 WAR in 73 games this past year due to shoulder, hamstring and ankle injuries. It was a disaster, injury-filled year. Kemp was, however, a true monster as recently as 2011 (172 OPS+ and 8.1 WAR) and very good in 2012 (147 OPS+ and 2.4 WAR) around another hamstring problem. He just turned 29 in September and while the contract is scary, the excellent 2011-12 performance is too good ignore. Kemp won't net a huge return, but if the Dodgers agreed to kick in some cash, a number of big market teams would inquire. There's too much potential to ignore considering he's right smack in the prime years of his career.
ANDRE ETHIER
Contract Status: $71.5 million through 2018
Trade value: Somewhere between Crawford (small) and Kemp (moderate)
Ethier will turn 32 soon after opening day and has been rock solid for the better part of a decade now, posting an OPS+ between 121-133 and a WAR between 1.9-3.8 every year since 2008. He is not without his faults though -- Ethier can't hit lefties, kinda stinks on defense and is usually good for a DL stint per season. Man can he crush righties though. The contract is excessive but doesn't look terrible in a world where Hunter Pence gets $90 million and Jacoby Ellsbury figures to get $100+ million. Ethier fits best with an AL team that can stash him at DH on a fairly regular basis and would generate interest if available, as long as the Dodgers chip in some cash. The return won't be great necessarily, but I do think there would be a market for his services.
And, well, they're probably right

Supposedly, MLB execs have discussed letting teams hit any three hitters they want in the...

Keep tabs on the top 50 free agents on the market right here
After the departures of Steven Souza and Corey Dickerson, the Rays add a right-handed bat

Rasmus essentially walked away from baseball during last season

Forrest Whitley is the Astros' top pitching prospect and set to work in Double-A this year