Report: Dodgers offered Clayton Kershaw 'around' $300M
According to ESPN.com's Buster Olney, Dodgers ace Clayton Kershaw was offered around $300M by the Dodgers for a lifetime contract extension ... and he turned it down!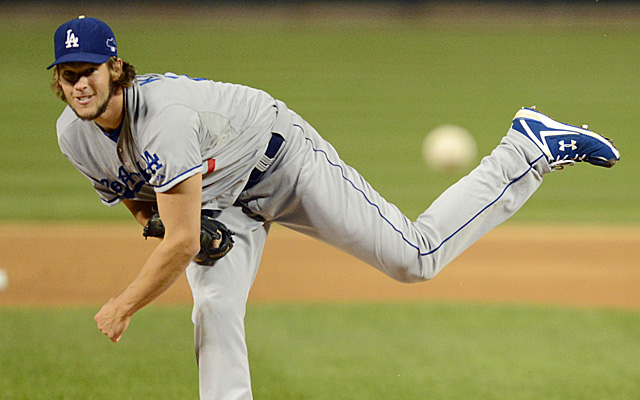 Dodgers ace Clayton Kershaw was offered a "lifetime contract in the range of $300 million" earlier in the 2013 season, according to ESPN.com's Buster Olney.
And, according to Olney, Kershaw amazingly turned it down.
My head is spinning.
The largest contract ever given to a pitcher came when the Tigers gave Justin Verlander an extension that made his current contract into a seven-year, $180 million deal.
Given the track record of pitchers breaking down as they age -- not to mention Verlander having just gone through a down season -- it's astounding that the Dodgers would go so far beyond the established market for aces.
Yes, Kershaw is largely regarded at present to be the best pitcher in baseball. He's likely to win his second Cy Young in the past three seasons and he was the runner-up last season. He'd led the majors in ERA in three straight seasons after posting  a ridiculous 1.83 figure this season. And he's only 25 years old.
With all that in mind, it makes a lot of sense for him to be able to cash in with a record (for a pitcher) deal, but going around $120 million more than the previous record seems like lunacy.
On the flip-side, how is Kershaw turning this down? It would unbelievably shatter the previous record, he's set then for life and knows he can stay in Los Angeles on a high-profile and probably regularly-competitive team given how lavishly they're likely to keep spending. What, pray tell, is the downside to accepting such a deal?
There's definitely downside to not taking it. What if he gets hurt? What if he has an off-year next year before hitting free agency? What if the team just watched him implode in an elimination game in the playoffs and would now be worried about committing so much to him?
So much wild in this report.