Report: Dodgers to raise ticket prices up to 140 percent
Local enthusiasm for the Los Angeles Dodgers will reportedly mean higher prices of admission.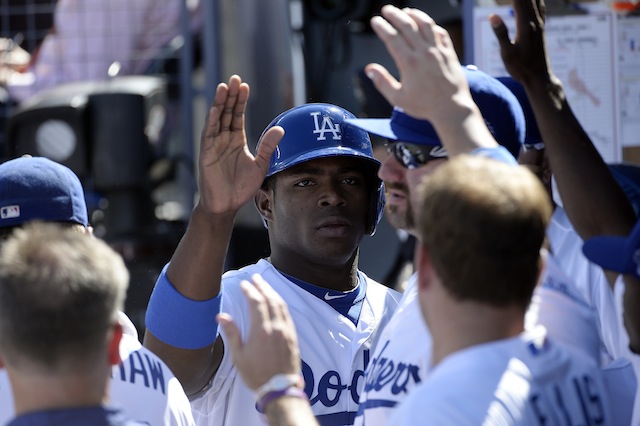 MORE: FA tracker: position players | FA tracker: pitchers
Bill Shaikin of the Los Angeles Times writes that the Dodgers are poised to raise ticket prices up to 140 percent in some instances. He writes: 
When the Dodgers announced late Friday that they had put an "extremely limited" number of season tickets on sale, they did not say they had imposed significant price increases on nearly every one of those tickets.

The Dodgers now are charging as much as 140% more than the season price set last fall. They increased the price in each of the 20 ticket categories made available Friday, and by at least 50% in 10 of them.

David Siegel, the Dodgers' vice president of ticket sales, said the new prices reflected what he called "unprecedented" demand for tickets. In the announcement Friday, the Dodgers said available tickets would start at $12 per game, which Siegel said constituted adequate disclosure of the price hikes "although we didn't spell it out."
Siegel's stated reason for the increase is a plain truth that doesn't get put forth enough in these conversations. Too often, fans assume that an increase in ticket prices is a direct response to an increase in payroll, which naturally leads to the assumption that player salaries are responsible for the rank-and-file fan's having to fork over more money for seats. But that's simply not how it works.
If teams could raise prices any time they needed additional revenues, then, suffice it to say, they'd raise prices a lot more often. What the Dodgers are doing is a simple response to what they perceive as increased demand. 
Thankfully, we're getting past the days when team officials, pocket linings exposed and shoulders shrugged, would blatantly lie and say they had no choice but to raise prices because Jimmy All-Star was making too much money (the risible John Allen, former Reds honcho, once tried this "messaging strategy" on Barry Larkin), but the belief still persists in some corners. 
So, upset that it costs more to see the Dodgers play? Direct your outrage toward supply and demand, not the players. 
The Yankees have lacked production out of the DH spot so far in the postseason

Frazier has come up with big hits, but his greatest impact may have come in the clubhouse

The Dodgers are trying to claim a commanding 3-0 lead on the road
The Astros are trying to rebound from a Game 3 drubbing in their first game in the Bronx

Sure, the Cubs have faced great pitchers, but their offense has simply been bad in the pla...

The projections still favor an Astros-Dodgers World Series for now, but there was movement