Report: Dodgers will 'go all-out' to sign Masahiro Tanaka
The Dodgers have the best pitcher in the world and they've already signed Dan Haren this winter, but that won't stop them from pursuing Masahiro Tanaka. They're planning to "go all-out" to sign him.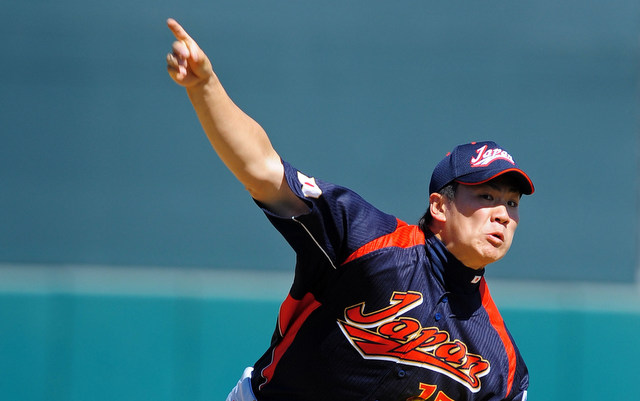 MORE: FA tracker: position players | FA tracker: pitchers
Just two days ago we heard the Dodgers and Masahiro Tanaka were in a "feeling out process," but apparently the team is not messing around. They plan to do whatever it takes to add the right-hander to their already strong rotation:
The #Dodgers have let it be known they plan to go all-out in their efforts to sign Tanaka, saying they and certainly won't be out-bid.

— Bob Nightengale (@BNightengale) January 10, 2014
The 30-day period to sign Tanaka ends two weeks from today. He has to pass a physical and literally sign the contract by then, so the entire process will be wrapped up. Tanaka won't be able to simply agree to terms then handle the paperwork another time.
The Dodgers signed Dan Haren to a one-year contract earlier this winter and he is slated to join Clayton Kershaw, Zack Greinke and Hyun-Jin Ryu in the rotation. Chad Billingsley and Josh Beckett are returning from injury and might not be ready in time for opening day. Stephen Fife could get the nod as the fifth starter in the meantime, unless the team adds Tanaka or a similar starter.
There's a chance the interest in Tanaka is an indication the Dodgers think Kershaw is unlikely to sign an extension rather than test the free agent waters next offseason. Or they could be applying some pressure and trying to nudge Kershaw towards a new long-term deal. Beckett ($17 million), Hanley Ramirez ($16 million), Billingsley ($12 million), Haren ($10 million) and Brian Wilson ($10 million) are all due to become free agents next winter, so the club will have a lot of money coming off the books in the near future.
The Yankees, Mariners and Cubs are among the other teams seriously pursuing Tanaka. The Diamondbacks, White Sox and Angels have interest as well.
Dioner Navarro still hopes to return someday

Christian Yelich's agent says his client's relationship with Marlins is 'irretrievably bro...

The free-agent market has been slow and one player is bracing for an even longer wait
The Mets didn't want to trade a young outfielder for an older one

Josh Harrison doesn't sound pleased Gerrit Cole and Andrew McCutchen have been traded away

The team's media contracts expire following the 2019 season