Report: Eight teams interested in Johan Santana
Despite coming off a major shoulder surgery, nearly one-third of the league is showing interest in Johan Santana.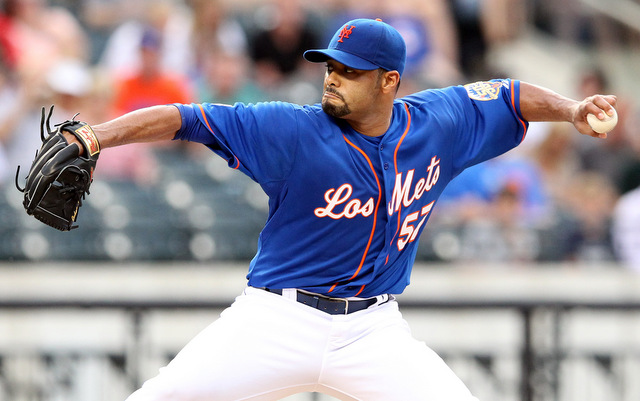 MORE: FA tracker: position players | FA tracker: pitchers | Winter Meetings updates
On Tuesday, Jon Heyman of CBSSports.com reported the Orioles and Mets were among the teams with interest in free agent left-hander Johan Santana. Today, Andrew Marchand of ESPN New York says six other teams are interested in the southpaw are the Yankees, Twins, Rays, Royals, Brewers and Pirates.
Given the price of starting pitching -- Phil Hughes (three years, $24 million), Scott Feldman (three years, $30 million) and Bartolo Colon (two years, $20 million) all received multiyear deals recently despite red flags -- it's no surprise so many teams are interested in the two-time Cy Young Award winner even after a second major shoulder injury.
Santana, 34, did not pitch at all in 2013 after having a torn shoulder capsule repaired. It was the second torn capsule of his career, and most pitchers who deal with the injury never come back the same. Chien-Ming Wang, Mark Prior and Rich Harden are among its victims.
In 2012, Santana went 6-9 with a 4.85 ERA (79 ERA+) and a 2.85 K/BB for the Mets. He had a 2.76 ERA as late as July 5, but he surrendered 33 runs in 19 innings in his final five starts before back and ankle trouble ended his season. Santana threw the franchise's first no-hitter on June 1 and some speculate his high pitch count in that game (134) led to his poor finish to the season.
Obviously the odds are long that Johan will return to being an effective pitcher after tearing his shoulder capsule twice, but there is no harm in giving him a minor league contract. I just wouldn't expect anything. Whatever he gives you is a bonus.
The club is expected to part ways with Collins after the season

Here is a preview of what's on the line Tuesday

Jerry Dipoto will have his hands full
Otani is said to be coming over this offseason, though nothing has been made official yet

What do the Mets need to do to get back to the postseason next year? Well, a lot

This is a two-man race coming down the stretch. Who should win?