Report: Fellow players hoped to kick A-Rod out of players union
MLBPA members hoped to expel Alex Rodriguez from the players union following his 162-game suspension, but it is not legally possible.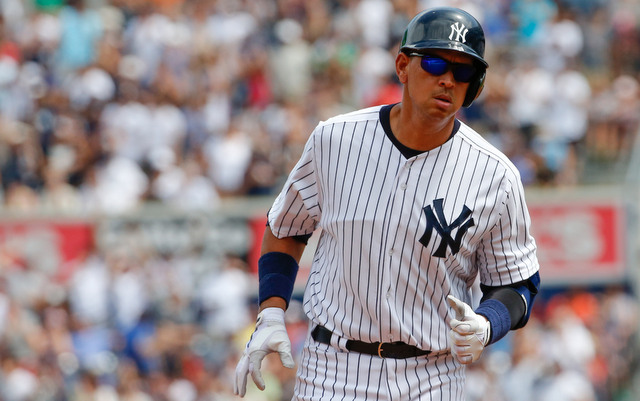 MORE: A-Rod suspended 162 games | Last of A-Rod? | Yankees now have cash, clarity
The dust has mostly settled following Alex Rodriguez's record 162-game suspension. Arbitrator Fredric Horowitz's ruling was announced 10 days ago, and since then A-Rod's camp has filed suit seeking an injuction that would overturn the suspension. Both MLB and the MLB Players Association were named in the suit.
According to Jeff Passan and Tim Brown of Yahoo! Sports, several union members -- Rodriguez's fellow players -- asked whether he could be expelled from the MLBPA following the lawsuit. Here are some details:
On a conference call of perhaps 40 players and board members held Jan. 13 from 4:30 p.m. to 6 p.m., outraged union members repeatedly requested that Rodriguez be expelled, sources said. Following a roll call of players present on the line, according to one participant and another familiar with the call, the first player to speak asked bluntly: Can we kick him out of the union?

Advised by union leadership that was not possible, more players nonetheless expressed the same opinion. Not a single member defended Rodriguez, one player said, in a forum where there are frequent disagreements.

"That's what everyone was thinking," the player said. "We wanted to get on this call and not let him back. [To say,] 'This is our game and we don't want you in it.'"
A-Rod included MLBPA in the suit claiming the union "completely abdicated its responsibility" to him. Late union chief Michael Weiner was also accused of failing to properly represent A-Rod. It was harsh but legally necessary -- Rodriguez had zero chance of getting the ruling overturned in a federal court without claiming the union didn't help him during his appeal hearing.
But, naturally, members of the union felt betrayed following the lawsuit. A-Rod had turned on his fellow players.
"It's beyond disappointment," said a player involved in union leadership who was on the conference call. "What brought it beyond disappointment was the fact he's suing the union. Guys understand people make bad decisions, they lie when they're embarrassed or trying to avoid punishment. Those are human qualities. Guys understand. But what made guys incensed is he would bring a suit against the union."

...

"When he gets up to bat, you can hit him and hit him hard," one player on the conference call told Yahoo Sports. "That's what I'd do. He sued us. Jhonny Peralta and Nelson Cruz screwed up. You know what? They owned up to it. They took their medicine.

"[Rodriguez] needs to be scared of coming back and facing people he sued. If he can't fear the wrath of getting kicked out or not being included, he's going to be forced out."
From what I understand, a federal judge is very unlikely to overturn A-Rod's suspension. They tend to stay out of collectively bargained matters that have already gone through the proper channels, in this case a hearing before a three-person arbitration panel. Rodriguez has said the ban "could be a big favor" at this point of his career because it would allow his body to rest, and he also claimed to have received support "not just from my Yankees teammates, but also players from other teams, retired players, Hall of Fame players and lots of good people, owners of other teams."
Personally, I don't believe A-Rod will ever play again and maybe I'm just naive. There will still be $61 million left on his contract from 2015-17 following the suspension, but he will be months away from his 40th birthday by then. He will have also played only 44 games in the previous 30 months by time opening day 2015 rolls around. I think the Yankees will simply release him after the suspension and no team will bother signing him afterward.
Either way, it's clear Rodriguez is no longer wanted in the game. Not by his peers, not by the league and not by many fans.
Gallardo spent the first eight years of his career in Milwaukee

MLB revenues are at a record high right now, but teams aren't spending it on players

Chicago added Tyler Chatwood earlier this offseason but might not be done adding to the ro...
The Dodgers and Braves pulled off a whopper on Saturday

Sabathia will reportedly spend a 10th season in the Bronx

Fowler suffered a knee injury at Chicago's Guaranteed Rate Field