Report: Indians, Masterson continue to talk about long-term deal
The Indians and right-hander Justin Masterson continue to discuss a long-term contract extension. He can become a free agent after the season.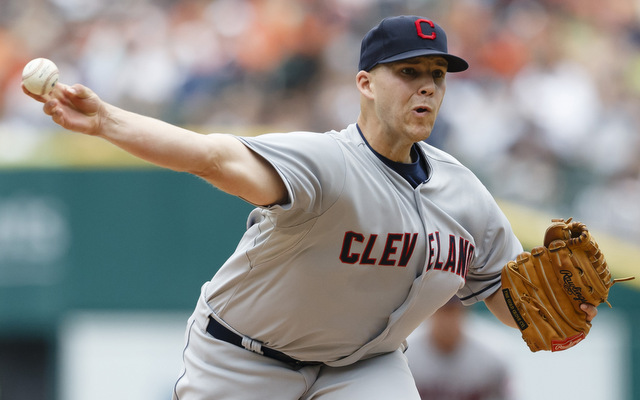 MORE: Spring Training | Scoreboard | FA tracker: position players | FA tracker: pitchers
The Indians and Justin Masterson avoided arbitration with a one-year deal worth $9.7265 million a few weeks ago, but the two sides continue to discuss a long-term extension according to Paul Hoynes of the Cleveland Plain-Dealer. "I figure somehow, someway I'll end up still being here for a few more years," said the right-hander.
"We are talking," confirmed Randy Rowley, Masterson's agent. "The Indians know where we stand and we know where the Indians stand. We'll see if we can get something worked out before the start of the regular season." 
Hoynes says the Tribe are believed to have offered Masterson a three or four-year contract, and a counter-offer was made. Homey Bailey's recent six-year, $105 million extension with the Reds more or less set the market for pitchers of this age and caliber.
Masterson, 28, went 14-10 with a 3.45 ERA (109 ERA+) in 193 innings last season. In his four full years in Cleveland, the sinkerballer owns a 4.05 ERA (96 ERA+) and has never thrown fewer than 180 innings in a season. He can become a free agent after the 2014 campaign.
No, you're not imagining things. This MLB offseason has been very slow compared to the last...

Francesa will retire from radio next month, so he'll have plenty of free time next summer

Get your sports fans something that they'll wear all year
Get 15 percent off any order of more than $75 at CBS Sports Shop

The Twins need help in the rotation, and they may look to the trade market to find arms

Here are the bullet-points of what went down Tuesday regarding MLB and the Braves' punishm...