Report: Jeff Kent will be on CBS' 'Survivor;' if true, how would he fare?
There's a report that former second baseman Jeff Kent will be on the next season of Survivor. If this is true, how might he fare in the game?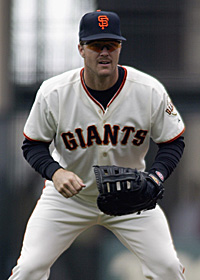 The rumor is making the Internet rounds, and though we're neither able to confirm or deny it here, being that it's a slow news night (seriously, four games?), it can't hurt to discuss it.
The "it" being that former NL MVP Jeff Kent will reportedly be on Survivor: Philippines. This report comes from survivorfever.net in a listing of cast members (they have five so far) for the upcoming 25th season. It will air on CBS starting in September. To reiterate: I have no idea if this report is true. I don't work for CBS the TV station.
Kent, 44, retired from baseball after the 2008 season. He was a five-time All-Star and finished in the top 10 of MVP voting four times -- including winning the award in 2000. For his career, he hit .290/.356/.500 with 377 homers, 1,518 RBI and 1,320 runs scored in 17 seasons, making him one of the best offensive second baseman in baseball history.
Kent would easily be the most accomplished athlete to ever play Survivor. There have been a few former athletes on the show, the most accomplished being either former NFL tackle Steve Wright or former NFL quarterback Gary Hogeboom, but Kent is a Hall of Fame candidate.
It's worth noting that Kent would not be the most recognizable sports personality ever on the show, because two-time Super Bowl championship coach and current NFL on Fox analyst Jimmy Johnson has appeared on the show. I'd guess most laypeople far more easily recognize Johnson than Kent.
Now, if you don't care about Survivor, you may stop reading here. I'll confess that I'm a shameless die-hard Survivor fan. I even mention Survivor in my Twitter bio. So now I'm going to speculate on how Kent might size up as a competitor if this report is indeed true. And if the report is not accurate, well, at least I had fun thinking about this subject.
Now, the first thing Kent has to do is lie about what he's done with his life. It's personally bothersome to me, but the first thing many contestants do if they find out someone is rich is want to vote him out. It's a game for a million bucks and, as the mantra generally goes, "he doesn't need the money!" I have little doubt Kent can pull this off. Assuming people don't recognize him, they'll believe him. 
In terms of people on the show knowing who he is, Kent may be in the clear here. He doesn't have an especially recognizable face these days to non-die-hard baseball fans, especially if he shaved that porn 'stach. If anyone does know who he is, it'll probably only be one or two people and it would behoove Kent to make an alliance with them in exchange for keeping the secret.
In terms of physical performance, sometimes young, overly physically fit guys are targeted early on because they present a "threat," which, by the way, is folly about every time. But it still continues to happen. Anyway, Kent should be in the clear here. He's 44 and while I have no doubt he's still in good, athletic shape, he's not likely to look overly imposing. He's tall at 6-foot-1, but not abnormally so. In the early weeks, he seems like he'd able to fare well in challenges without scaring people that he'll run the table after the merge. It will be one of those instances where he helps the tribe but doesn't scare people. So he gets to stick around.
Since I believe Kent is going to get an even playing field here, it will come down to how he plays the game mentally. We know he's not too shy to have a confrontation, because he had one in the dugout with Barry Bonds when they were teammates. He'll probably need to avoid that until at least the merge to survive long-term.
I believe if no one finds out his identity (or he's able to keep it limited to one or two trusted allies), performs well in challenges -- but not too well early on -- and doesn't get in a big-time fight, he'll have a real shot to win.
Again, this is all contingent on that report being true. I know as much as you do at this point. Hopefully it is true, because I think Kent would make for a very entertaining contestant.
(And, yes, I know I'm a dork for that extended breakdown.)
Hat-tip: Big League Stew
For more baseball news, rumors and analysis, follow @EyeOnBaseball on Twitter, subscribe to the RSS feed and "like" us on Facebook.
The Grapefruit League and Cactus League seasons started on Friday

Data will be collected and then used to determine whether humidors are necessary in 2019

Spring training play began on Friday, and the Stoneman Douglas tragedy was on the mind of MLB...
Baseball players forced to take pictures usually lead to fun for all of us

One of the most celebrated programs in baseball is looking to continue its run

A closer look at the teams in the Cactus League and Grapefruit League