Report: Lawyer to sue Alex Rodriguez over unpaid legal fees
A-Rod is being sued by his lawyer for unpaid legal fees, reports the New York Daily News.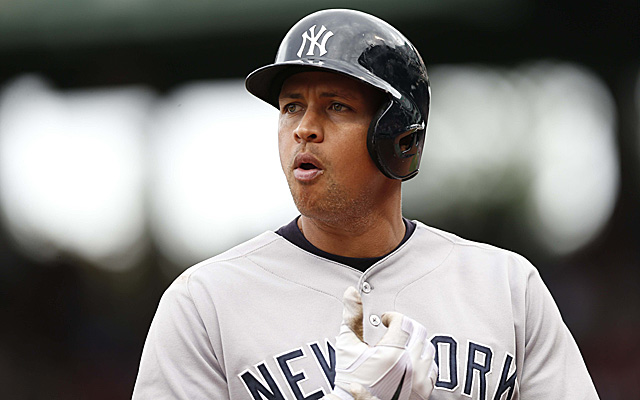 More MLB: Power Rankings | Expert Picks | Latest news & notes | Fantasy news
Former (and future?) Yankees third baseman Alex Rodriguez is set to be sued by one of his lawyers, David Cornwell, over unpaid legal fees, according to a report in the New York Daily News.
The details in the report:
Veteran sports attorney David Cornwell, who represented Rodriguez in his 2013 Biogenesis doping battle, intends to sue Rodriguez next week for nonpayment of roughly a half-million dollars in legal fees, the Daily News has learned.

According to two sources, Cornwell and his Atlanta-based firm, Gordon and Rees LLP, recently notified Major League Baseball and the MLB players union about their plans to file a suit next week in US District Court in the Southern District of New York.
And since it's A-Rod, there's more to the story and it's quite a twist. Per the Daily News, Rodriguez says he believes he was "ill-served" by his lawyers and got some bad advice. Thus, he has asked for discounts from his crack squad of paid personnel (including "lawyers, private investigators and public relations experts."
And if A-Rod claims he was badly wronged, what if he brings a countersuit for legal malpractice? Well, the plot thickens even further:
"If Alex Rodriguez claims he shouldn't have to pay his attorney because the attorney gave him bad advice, it seems likely that a court will allow the attorney to tell the world what Alex was telling him at the time he gave the advice," said Daily News legal analyst Tom Harvey (nydailynews.com). "The Code of Professional Responsibility specifically provides that a lawyer may reveal confidences or secrets necessary to defend against accusation of wrongful conduct."
Yep, bye bye attorney-client confidentiality in that case. It's hard to see the PR-obsessed A-Rod giving the OK to that.
Didn't everyone miss A-Rod and the drama that comes with him?
Rodriguez, who will turn 39 later this month, is serving a season-long suspension for his ties to the Biogenesis scandal. He hit .244/.348/.423 with seven homers and 19 RBI in 44 games last season. He is set to make $61 million in the final three years of his contract, which ends after the 2017 season.
Hat-tip: Hardball talk
The lefty starter is coming off a terrible season

After acquiring Ian Kinsler and Zack Cozart in recent days, the Angels are trending upward

Cozart's coming off a big season as the Reds' shortstop
The veteran slugger spent the last eight seasons with Cleveland

The Padres may be poised for an active winter

Yes, Bryce Harper is going to make a lot of money next winter