Report: Lawyers almost brawled during A-Rod's appeal hearing
As if the Alex Rodriguez saga couldn't get any weirder, lawyers for both sides almost came to blows recently.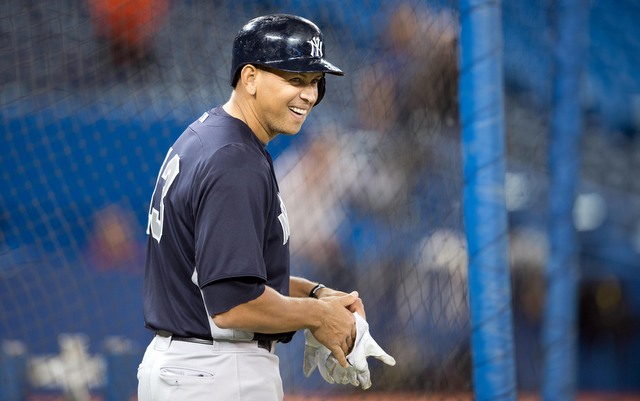 According to the New York Daily News, the lawyers for Alex Rodriguez and former Biogenesis chief Anthony Bosch nearly fought during the embattled slugger's appeal hearing two weeks ago. Here are the details:
According to several sources with knowledge of the altercation, [Joseph] Tacopina instigated a confrontation with Julio Ayala, one of the Miami attorneys who represent Anthony Bosch, the proprietor of the now-defunct Biogenesis clinic that was a source of performance-enhancing drugs for more than a dozen big leaguers — and MLB's chief witness.

During the first week of the arbitration, the sources say, Tacopina launched an aggressive attack on Bosch's credibility after Bosch authenticated a pile of documents and electronic communications that MLB says reflect the league's conclusion that Rodriguez acquired banned substances from Bosch over several years. It was during a break in one of those tense sessions that Tacopina and Ayala nearly came to blows.

...

Tacopina, a former hockey player who holds the Skidmore College record for most penalty minutes in a season, then made a derogatory statement about Ayala and "his lying wife," Susy Ribero-Ayala, another attorney representing Bosch, angering Julio Ayala. Tacopina then "bull-rushed" Ayala, who went toe-to-toe with Tacopina, in the words of one source.
The Daily News report says Tacopina apologized to Ayala the following day. Ayala accepted the apology and the two sides said they want to put the incident behind them.
The appeal of Rodriguez's record 211-game suspension for his ties to Biogenesis and allegedly interfering with MLB's investigation began two weeks ago and is still underway. In the meantime, A-Rod's legal team has filed lawsuits against both MLB for their "witch hunt" and Yankeees team doctor Christopher Ahmad for misdiagnosing his left hip injury last fall.
Performance-enhancing drugs, lawsuit, lawyers threatening to fight ... this story has it all.
In the last several years, lots of droughts have ended in MLB

The most likely scenarios are Dodgers winning in five or six games

Despite a seven-game ALCS, the Houston rotation lines up nicely for the World Series
Sabathia and the Yankees are a perfect fit for each other

Bregman threw out Greg Bird at the plate to preserve the Astros' lead

The 2017 World Series begins Oct. 24