Report: Lefty Mark Mulder attempting to make a comeback
Former Athletics and Cardinals southpaw Mark Mulder is going attempt a comeback after five years away from baseball.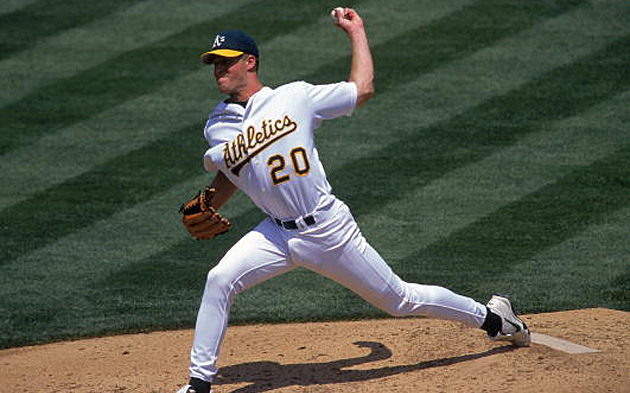 MORE: FA tracker: position players | FA tracker: pitchers | Winter Meetings updates
Former Athletics and Cardinals left-hander Mark Mulder is planning to attempt a comeback, reports ESPN's Jerry Crasnick. He effectively retired in 2009 following a pair of shoulder surgeries and has not pitched in the big leagues since 2008.
Here's more from Crasnick:
But things changed in October when Mulder watched Los Angeles Dodgers reliever Paco Rodriguez on TV and found something in Rodriguez's delivery that he could emulate. Mulder spent the month of November working himself into shape at a Phoenix-area facility run by former big-league catcher Chad Moeller, and recently threw off the mound for three unspecified teams near his home in Scottsdale.

He said scouts clocked his fastball at 89-90 mph. Now he's hoping to audition for more clubs and land an invitation to a spring training camp.

"I can't even begin to tell you how excited I am," Mulder said by phone Tuesday. "To be honest with you, I never anticipated this five or six weeks ago. It was just a flat-out fluke that came from me trying to imitate Paco Rodriguez in my living room."

...

A fluke viewing of Rodriguez on TV apparently changed that. Mulder had always separated his hands at his delivery at his midsection, but tried raising them near his head similar to the way Rodriguez does. He became convinced he was onto something after playing catch with former Cardinals teammate Kyle Lohse on Oct. 27, when they were hanging out at a birthday party for their daughters. The two pitchers threw from a distance of 150-200 feet, and Mulder was encouraged when Lohse told him he looked like his former self.

...

"The best way to describe it is, the ball is coming out of my hand better now than at any point when I was in St. Louis," Mulder said. "I wouldn't be trying this is if I didn't think the stuff I was throwing was good enough [to pitch in the big leagues]."
Mulder, 36, has been working as a television analyst at ESPN since 2011. He had surgery to repair tears in his rotator cuff in both 2006 and 2007. The injuries limited him to 93 1/3 innings in 2006, 11 innings in 2007 and 1 2/3 innings in 2008.
Rodriguez, a fellow southpaw, has some funkiness in his delivery as a lefty specialist. Here's a video:
At his best from 2001-05, Mulder had a 3.65 ERA (120 ERA+) and a 1.20 WHIP while averaging 210 innings per season for the A's and Cardinals. Starting is almost certainly off the table at this point, but teams are always looking for lefty relievers and someone will surely bite if he looks good enough. Mulder plans to audition for more teams later this month.
It's hard to think the comeback will be successful after so much time off, but Mulder deserves a ton of credit for giving it shot. He's got a cushy job with ESPN and could easily stay retired. Instead, he's giving it another go.
"So far everything has been awesome," he said. "Why not give it a shot?"
Where might the Orioles third baseman land?

Kinsler will slot in at second base for the Angels

The Marlins got a better return for Ozuna than Stanton or Gordon
The two teams are going about things in very different ways

The Marlins are indeed in teardown mode under new ownership

The Marlins still have more attractive pieces