Report: Local streaming coming to 15 MLB markets next season
A report indicates that a deal will soon be reached for 15 teams to provide local online streaming coverage next season, which is a great step in ending MLB's ridiculous blackout policy.
Major League Baseball has long had an absurd blackout policy in place, but we're finally seeing steps of it going away. Per sportsbusinessdaily.com, 15 MLB teams (local FOX affiliates) are going to have local games available for streaming online starting next season.
From the report:
There is no specific timetable for a potential announcement of a deal between FOX and MLB. The two sides hope to complete the agreement around the end of this season, which would give the league and RSNs a full offseason to market the availability of the new local streams before Opening Day 2016.

MLB Commissioner Rob Manfred, working with the league's president of business and media, Bob Bowman, has made in-market baseball streaming a key league priority, including personally participating in several negotiating sessions.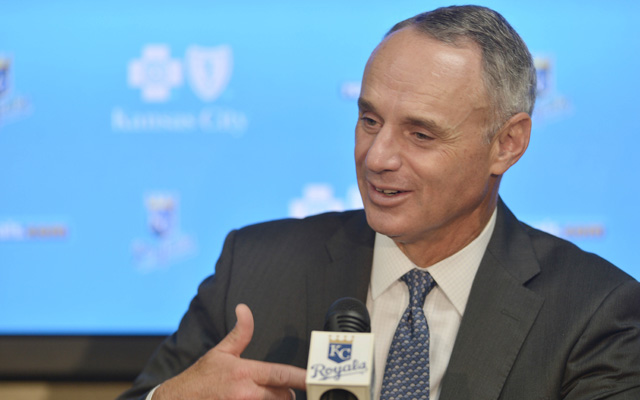 Given that this is only FOX, and not Comcast or Root, for example, not every team is included. But for now, this is certainly a step in the right direction.
For years, MLB's blackout policies have been awful, the degree of awful depending upon where you live. I live in central Indiana and that's in the territory of the White Sox, Cubs and Reds. So if there's a Cubs game that isn't airing on my local affiliate, I'm blacked out from watching the opposing broadcast (unless it's White Sox or Reds!) despite paying for MLB Extra Innings.
Many fans find themselves in similar situations. Look at the blackout map by clicking here. Focus on southern Nevada and the state of Iowa in particular, even though neither is the actual home to an MLB team. Also, as I've noted in the past, Hawaii is claimed as a home territory by a whopping six teams.
So while this is far from over, any step in the right direction is a good step. It's also a positive to hear that Manfred is making in-market streaming a priority. Good for him.
Souza is tasked with replacing J.D. Martinez in the Arizona lineup

Samardzija had the MRI done on Thursday following a poor start

Well, you don't see this every day ... at least not in spring training
Our advanced computer model simulated the Cardinals' entire 2018 season 10,000 times

Our advanced computer model simulated the Cubs' entire 2018 season 10,000 times

The lefty ace has already put together an excellent career, and there's more to come