Report: Manny Machado to undergo knee surgery, likely out for season
Troubling news for the first-place Orioles, as a source tells Tim Brown that third baseman Manny Machado won't play again this season.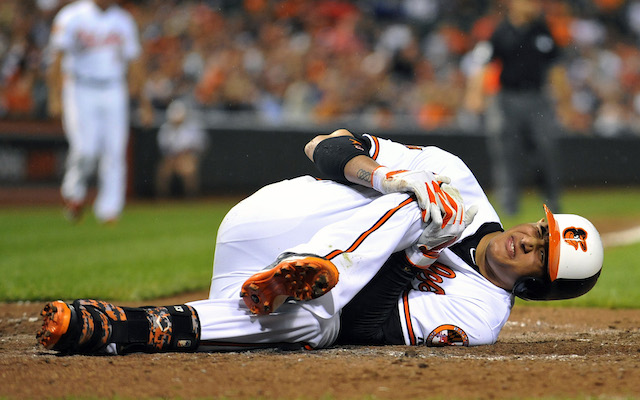 Here's some potentially very bad news regarding injured Orioles third baseman Manny Machado:
Source: Manny Machado expected to have surgery on knee within a week. Likely lost for the season. Big hit for O's.

— Tim Brown (@TBrownYahoo) August 22, 2014
Machado has been on the DL since Aug. 12 with a sprained right knee, so this would indeed constitute something close to a worse-case scenario.
The 22-year-old Machado is batting .278/.324/.431 (111 OPS+) in 82 games this season (and was strongly trending upward at the time of his injury). Besides a developing bat, he boasts elite defensive skills at third. His start to the 2014 season was delayed because of surgery to repair a ruptured ligament in his left knee in October of last year. 
Needless to say, Machado will be missed by the first-place Orioles if he's indeed bound for season-ending surgery. The O's have been giving Chris Davis some time at third in Machado's absence, and Ryan Flaherty and possibly Cord Phelps can provide depth. Any of those arrangements, however, is obviously a significant downgrade from Machado. 
For what it's worth, the Orioles have managed to go 26-18 without Machado this season. 
Tanaka shut the Astros down in ALCS Game 5 and has overcome a down season and past injurie...

The 2017 World Series begins Oct. 24

The Yankees wouldn't chase Keuchel's bread-and-butter, those tempting pitches just at the knees...
The Yankees are now just one win away from the World Series, despite trailing this series 2-0...

It's Alex Wood against Jake Arrieta at Wrigley Field

La Russa has been with the Diamondbacks since 2014