Report: Mariners headed for financial windfall with TV deal
The Mariners are reportedly about to become the next MLB team to receive a financial windfall due to a TV contract. They are reportedly set to buy controlling interest in their regional sports network.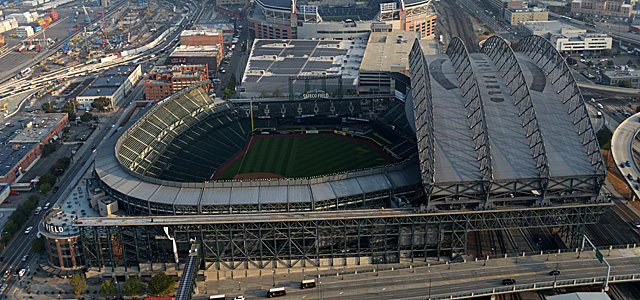 More MLB: Scoreboard | Standings | Probable Pitchers | Sortable Stats | Odds
Major League Baseball revenues are booming -- the sport made a profit of more than $7 billion last season -- and one of the reasons is the colossal amount of money generated by TV contracts. It has begun trickling down into the pockets of individual teams -- even some smaller market clubs like the Indians -- in recent years.
Next up: The Seattle Mariners.
Per Geoff Baker of the Seattle Times, the Mariners are set to buy a controlling interest in the regional sports network Root Sports. There's no dollar figure yet, but these deals always lead to a windfall for MLB teams. Baker helps to explain why:
The idea of teams owning their own RSNs has caught on in popularity around the sports world. In baseball, it's particularly popular because when you own the network, it enables you to shield money from MLB's revenue-sharing pile.The Yankees have been doing it for years. As owner of the network, the team charges itself a nominal sum for the right to broadcast games. That sum gets reported to MLB by the team as the revenue taken in for the rights to those games.

In some cases, the revenue might actually be two, three or even four times higher. But that gets run through the TV network's books and is not associated with MLB revenue sharing. It's a neat little trick and it's done all the time.
The Yankees were first with YES Network, but the Rangers, Angels, Dodgers, Indians (as mentioned earlier) and several others are also doing so. A decent amount of the time, owning the RSN leads to increased spending, even by traditional non-spenders.
Take those Indians. They signed Nick Swisher and Michael Bourn to multi-year contracts after getting their TV deal this past offseason.
The Mariners ranked 18th in payroll last season and began this season ranked 24th. They have locked up ace Felix Hernandez with a seven-year, $175 million deal with a 2020 club option.
Before this TV deal, however, King Felix was bound to eat up a significant portion of the payroll. It now appears the Mariners will be able to give him some high-priced teammates.