Report: Mariners need to talk ownership into more major moves
The Mariners have already made one huge move this winter by signing Robinson Cano, but if they want to do more, ownership will need to approve according to a Fox Sports report.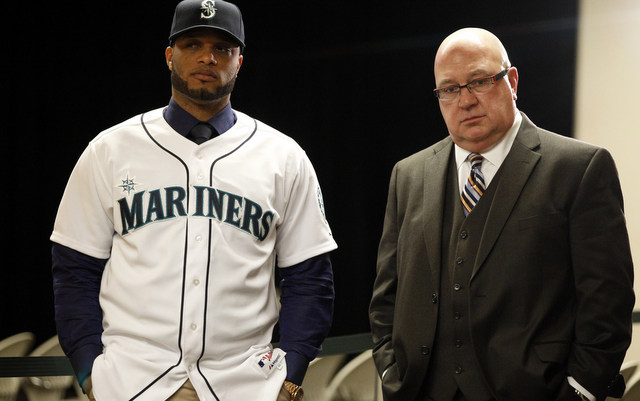 MORE: FA tracker: position players | FA tracker: pitchers
The Mariners have been one of the most active teams in baseball this winter, adding Corey Hart and Logan Morrison to their huge Robinson Cano signing. Given those moves and the team's lack of success these last few years, Seattle is definitely coming off as desperate these days.
How desperate though? The Mariners been connected to several other big name players, but apparently the front office still needs to convince team ownership to push forward and make more moves:
Sources: #Mariners weighing a number of options - Tanaka, Price, N. Cruz, etc. - but need to persuade ownership to keep pressing forward.

— Ken Rosenthal (@Ken_Rosenthal) January 6, 2014
This sort of thing applies to every team in baseball, really. There isn't a GM in the game who can sign Masahiro Tanaka, trade for David Price, or sign Nelson Cruz without first going to his owner and getting the stamp of approval. That's just the way these things work.
With the Mariners though, you'd think GM Jack Zduriencik would have been given the a-okay in advance to make another big move. The part about having to "persuade ownership to keep pressing forward" seems like something that should have happened already. As great as he is, adding Cano to the current roster is like putting lipstick on a pig. He's not enough to put them over the top.
The Mariners should be a better club in 2014 with Cano, Hart and Morrison. Are they good enough to contend in the AL West? Probably not. The Athletics are still really good and the Rangers fixed their offensive woes with Prince Fielder and Shin-Soo Choo, plus the Angels have taken steps to improve their rotation. Frankly, I'm not sure adding Cruz and either Price or Tanaka would be enough to make them a contender.
The lefty starter is coming off a terrible season

After acquiring Ian Kinsler and Zack Cozart in recent days, the Angels are trending upward

Cozart's coming off a big season as the Reds' shortstop
The veteran slugger spent the last eight seasons with Cleveland

The Padres may be poised for an active winter

Yes, Bryce Harper is going to make a lot of money next winter